If You Guess Oreo's New Mystery Flavor, You Could Win $50,000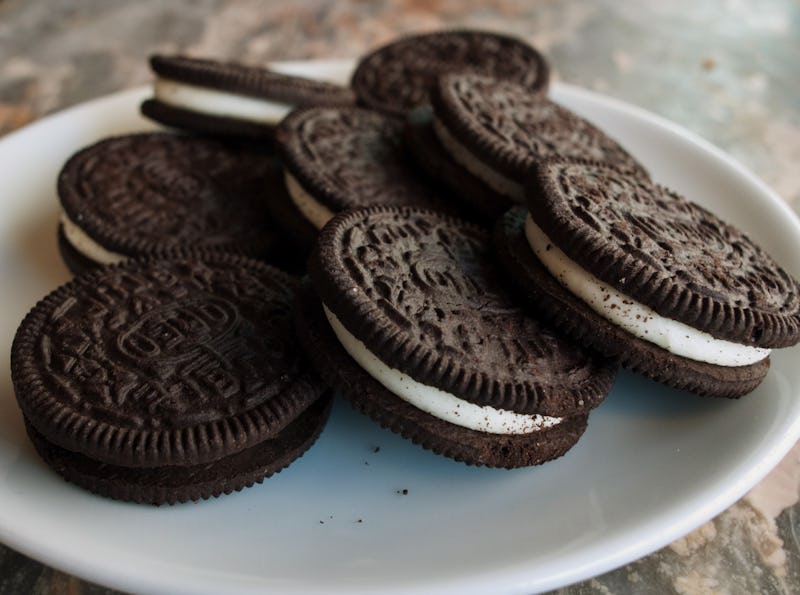 MANDEL NGAN/AFP/Getty Images
If you love Oreos and money (who doesn't?), then we've got a delicious surprise for you: you could win as much as $50,000 if you correctly guess the Oreo mystery cookie flavor; and you can buy a lot of Oreos with $50,000. The contest is open now until November 30. Aside from the grand prize, you could also win one of five prizes of $10,000 each, which would still buy a lot of Oreos. Also, the contest requires you to eat Oreos. Really, there are no losers.
The mystery Oreos come in a white package and look like the traditional sandwich cookies we all love; but while the cookies are still chocolate, Oreo doesn't tell you what flavor the cream inside is. If you want to enter the sweepstakes and possibly win some big cash, these are the rules: you can enter online, and there's only one entry per person per day. Earn bonus points by uploading your receipt proving you bought a pack of Mystery Oreos. This equals one entry. Another option is to upload a picture of you and your Oreos, which is major #cookiegoals. But remember: one entry a day. Break the rules and you'll bring shame to the Oreo name. Don't be that person.
If you're terrified of biting into something disgusting, fear not, because this doesn't seem to be Oreo's most adventurous flavoring attempt. People are already speculating and making their predictions, with many commenting on the sweet and fruity flavor. Is it Froot Loops? Is it Fruity Pebbles? Both are common guesses, along with "cereal milk." Even if you aren't a fan, rest assured you won't end up with food poisoning or pink saliva.
Then there are these flavor guesses:
Only time will tell. You'll just have to keep eating Oreos and submitting your entries until you get it right. Tough life.
Eating a mystery Oreo might scare some, but Oreo has always laughed in the face of danger. Don't forget this is the same brand that once created Peep-flavored Oreos, which reportedly turned people's poo pink. Limeade Oreos made us ask, "...Why?" Then there were Swedish Fish-flavored Oreos, Candy Corn, and Root Beer Float. We appreciate the creativity but also wonder what we did to deserve such horrendous treatment. Thinking outside the box is awesome, but maybe stay a bit closer to the box next time, friends.
Then again, Oreo has had a number of real winners. Reese's Peanut Butter Cup Oreos made us shed a tear of cookie joy. We tried Birthday Cake Oreos and heard angels singing somewhere in the distance. One bite of S'mores Oreos and the world was immediately a better place. Milk's favorite cookie is so epic that it even has its own holiday: National Oreo Cookie Day is celebrated on March 6. We take off work and everything.
People love Oreos so much that they were ranked number four on the Huffington Post's Definitive List of America's Favorite Cookies — although some would argue that Oreos come in first.
It isn't just a vast array of flavors, either, that makes Oreos so legendary; it's the number of spin-offs we've seen over the years, too. Oreo Thins are good if you just want a little nibble. (Plus, you get to eat twice as many, since they're smaller.) Oreo Big Crunch Chocolate Candy Bars — a layer of Oreos sandwiched between vanilla creme and covered in chocolate — are a party in your mouth. The Oreo Chocolate Candy Bare makes the perfect after-dinner treat. Or you could sub it in for dinner completely. Either way. We don't judge.
Grab a pack of the mystery flavor today and get those entries in. Remember, multiple winners who guess correctly will be picked. Eat cookies. Get rich. Live big.