How The Confederate Flag Got Its "Rebel" Nickname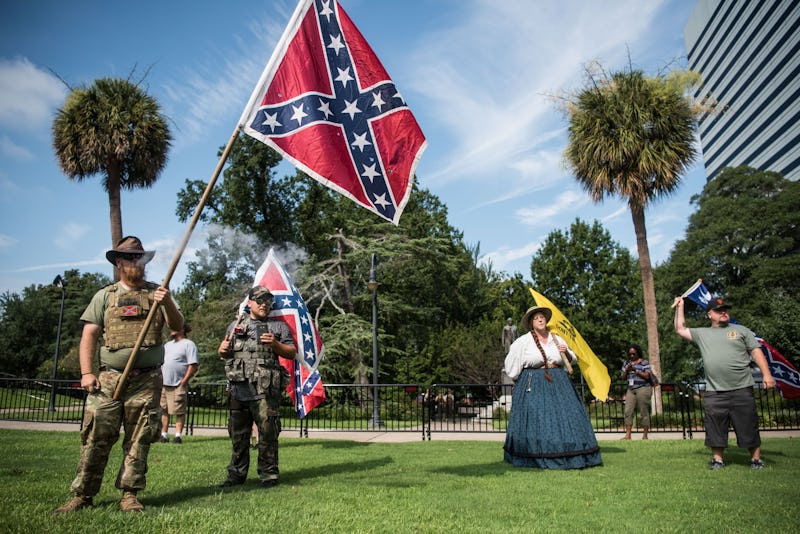 Sean Rayford/Getty Images News/Getty Images
After the deadly violence in Charlottesville Virginia, the controversial confederate flag, nicknamed the "rebel flag," has once again become a flashpoint in American politics. And perhaps because it has a long and winding history, the issue of what to do about a flag that reads as racist to some and local pride to others has yet to be resolved.
For social justice advocates, right-wing demonstrators who use and support the flag endorse its history of oppression. "The fact that the Confederate flag & statues permeate the south is evidence that white supremacy was never overthrown in the United States," Black Lives Matter Chicago said on Twitter.
Others, however, are defending the flag. Some are even rushing to buy it, overwhelming the shop that may be the last American manufacturer of the divisive symbol. Most manufacturers stopped making the flag after a white supremacist who had been photographed with it killed nine churchgoers at Emanuel A.M.E. Church in Charleston, South Carolina in 2015. Nonetheless, Alabama Flag & Banner in Huntsville, Alabama persists in making them. In the two weeks since the clash between white supremacists and counter-protesters in Charlottesville, the shop has received a slew of orders each day. Owner Belinda Kennedy told the Birmingham News:
After the church shooting, Amazon and Walmart stopped selling (the flag) and people were afraid they wouldn't be able to buy it. And then you started seeing streets renamed, schools being renamed, mountains being renamed. And then people started getting angry.
But what's important to note is that the symbol referred to today as the "Confederate flag" was not actually ever an official symbol of the Confederacy. What is known today as the "Confederate flag" was actually just a battle flag used by Confederate General Robert E. Lee's North Virginia Army.
Furthermore, according to historians, Confederate symbols fell out of popularity in the South for nearly a hundred years after the Civil War. Lee's army's flag only rose to prominence again in 1948, when South Carolinian politician Strom Thurmond, a staunch opponent of integration, stormed out of the Democratic National Convention over President Harry Truman's pro-civil-rights stance. Thurmond and his allies, who became known as the "Dixiecrats," formed their own political faction and adopted Lee's flag as their symbol.
Nowadays, the flag is sometimes referred to as the "rebel flag." In the late '40s, the United Daughters of the Confederacy wanted the flag to be only used appropriately, and not as a pattern for T-shirts and bikinis. Ignoring that, people continued using the flag's image as they pleased, then turned it into some symbol of "rebellion."
But it seems like for those in the pro-Confederate-symbol camp, the tide is turning against them. In 2015, Republican Gov. Nikki Haley decided to remove the symbol from South Carolina's capitol, and following the Charlottesville incident, other Confederate symbols have been dismantled on the orders of local officials.
Nonetheless, Kennedy, the Alabama-based flag maker, said she believes that the Confederate symbol may be a scarecrow, and that banning it may not actually help solve the country's racial tensions. "When we start trying to rewrite our history, we are forgetting our history," she said. "Does anybody really think by taking down monuments and renaming mountains and taking down Confederate flags, that we are really going to see racism end? That's not going to fix it. That comes from inside of people."