'The Return' Is The Thrilling True Story Of One Man's Quest For Answers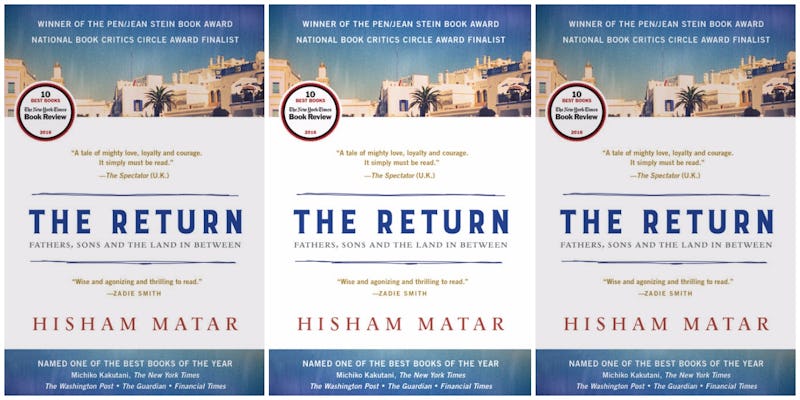 Writing can seem like a thankless undertaking at times, but for the newly-coined 2017 Pulitzer Prize winners, all of their hard work has paid off. The $10,000 check doesn't hurt, but even better is the recognition that comes with earning one of literature's most prestigious prizes. Readers everywhere will take note of the authors and titles that took top honors, including The Return: Fathers, Sons and the Land in Between by Hisham Matar, the winner of the Pulitzer Prize in Biography.
Although there is a History category and a General Nonfiction one, too, Biography makes up its own special one. The Pulitzer Prize Board knows that bringing a personal story to life in the pages of a book — be it someone else's or your own — isn't easy; doing so is its own art, and The Return is an excellent example.
In becoming the 2017 Pulitzer Prize for Biography, Matar's memoir joins other impressive works, including 2016's awardee Barbarian Days: A Surfing Life by William Finnegan; 2008's Eden's Outcasts: The Story of Louisa May Alcott and Her Father by John Matteson; 1997's Angela's Ashes by Frank McCourt; and more. Like those before it, The Return has a fascinating subject and story: Matar's journey back to his homeland to look into his father's disappearance more than 20 years before.
The Return: Fathers, Sons, and the Land in Between by Hisham Matar, $9, Amazon
The book follows Matar to his native Libya, where his father, a vocal opponent of the Qaddafi regime, had been imprisoned after being kidnapped more than two decades before. As Matar spends time in his motherland with his wife and mother, he searches for answers and reexamines their loss, all while painting a captivating and poignant portrait of the country, his family, and more. His work rightfully earned more than just the praise of the Pulizter judges — The Return is also the winner of the PEN/Jean Stein Book Award and was a finalist for the National Book Critics Circle Award.
Needless to say, The Return is worth a read, as are finalists In the Darkroom by Susan Faludi and When Breath Becomes Air by the late Paul Kalanithi.