What You Need To Know About The The Desperate Rohingya Crisis In Myanmar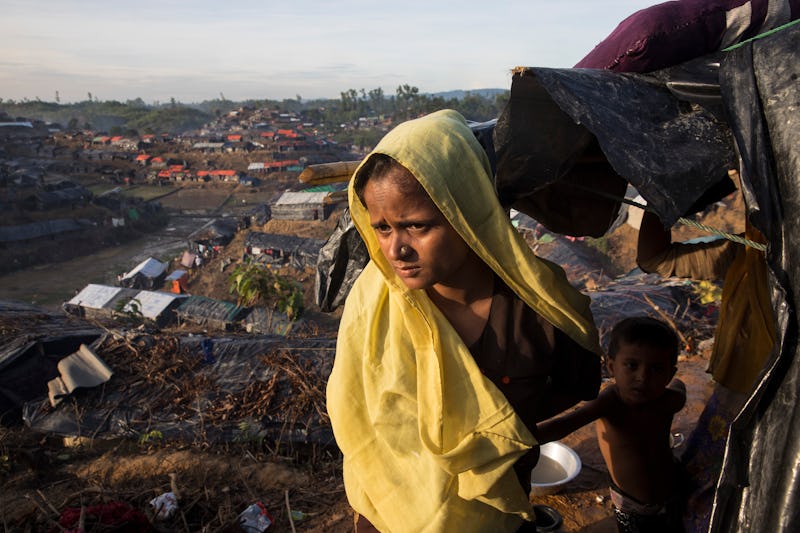 Paula Bronstein/Getty Images News/Getty Images
As ethnic tensions continue to unfold in Myanmar, those less familiar with its background may want to know more about it. The plight of the Rohingya people in Myanmar has been making news lately — as well as the silence of Myanmar's Nobel Peace Laureate Aung San Suu Kyi on the issue — but what exactly is the Rohingya Crisis, and how did it happen?
The Rohingya are a majority Muslim ethnic group who reside in Myanmar, a country which is predominately Buddhist. There are around 1.1. million Rohingya in Myanmar and nearly the entire population lives in the country's western Rakhine state, which borders Bangladesh.
The Rohingya have long been persecuted in Myanmar, as the country essentially views the Rohingya as illegal Bengali immigrants — and not citizens of Myanmar. According to Al Jazeera, this perception dates back to British colonial rule, when Britain administered Myanmar (then known as Burma) as a province of India — and many Rohingya reportedly migrated (at the time internally) to Myanmar from what is now modern day India and Bangladesh.
When the country gained independence from Britain in 1948, it purposefully excluded the Rohingya from gaining citizenship, viewing them as Bengali and not citizens of Myanmar. The first citizenship act was passed shortly after Myanmar's independence — and subsequent citizenship acts imposed even stricter limitations on the Rohingya people's status.
The most recent citizenship law, in 1982, does not recognize the Rohingya as one of Myanmar's ethnic groups and makes it nearly impossible for them to gain citizenship. As Al Jazeera reported, because of these restrictions, the rights of many Rohingya are incredibly suppressed and many are unable to marry, travel, access health care, work, or attend school. Thus, these citizenship restrictions have essentially rendered the Rohingya stateless.
Violence against the Rohingya has been incredibly rampant and problematic, too. Such violence reportedly began in the 1970s during a citizenship crackdown in which the Rohingya were forced out of their homes, with hundreds of thousands fleeing to nearby countries.
Since then, the persecution of the Rohingya has unfortunately become a somewhat regular occurrence. In 2012, after the rape and murder of a young Buddhist woman, Myanmar's government officials — as well as some members of the public— reportedly carried out extensive violence against the Rohingya, killing hundreds. In 2016, attacks against three police posts in Myanmar also triggered widespread violence against the Rohingya, with reports of rape, torture, and murder of Rohingya people by Myanmar security forces. Over 100,000 Rohingya were displaced from their homes in 2016.
Most recently, after a Rohingya militant group attacked several police outposts in August, another crackdown took place, causing over 400,000 Rohingya to flee into neighboring Bangladesh. According to The New York Times, Rohingya arriving in Bangladesh have told journalists and human rights officials in the country that Myanmar's military, along with some members of the public, have set fire to countless Rohingya villages and murdered Rohingya men, women, and children. The Times reported that recent satellite images show over 200 Rohingya villages have been razed.
Many in the international community have condemned the actions of Myanmar's military in the Rakhine state, with Zeid Ra'ad al-Hussein, the United Nations high commissioner for human rights, called the military's actions a violation of international law, according to the Times. Al-Hussein added that the military was carrying out "a textbook example of ethnic cleansing" and noted that its actions resemble " ...a cynical ploy to forcibly transfer large numbers of people without possibility of return."
While Suu Kyi, Myanmar's de-facto leader, does not control the military, many have been frustrated by her apparent inaction in regards to speaking out on the crisis. Suu Kyi did not address the recent crackdown until a speech on Tuesday, in which she said Myanmar was "not afraid of international scrutiny" and that it was still taking time to discover the nature of the situation, CNN reported. However, multiple reports clearly establishing the causes and implications of the crackdown have led some to criticize her speech.
Last week, the UN Security Council condemned the violence in Myanmar — the first time the body has done so in nine years. However, it is unlikely that the Security Council will be able to impose economic sanctions on Myanmar in hopes of curbing the violence, as, according to the Times, the sanctions would likely be vetoed by China, a strategic ally of Myanmar.
Many Rohingya continue to suffer and endure forced displacement from their homes as both Myanmar's de-facto leader and the international community take little concrete action to address their plight. Sadly, the Rohingya have endured extensive mistreatment in Myanmar for many years — and it looks like they will continue to do so for the foreseeable future.