Everything You Need To Know About The Devastating Las Vegas Shooting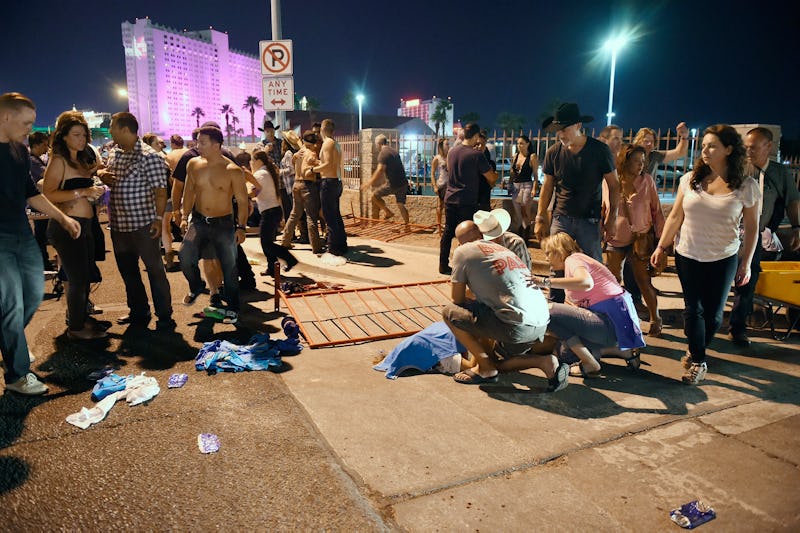 David Becker/Getty Images News/Getty Images
More than 50 people have reportedly been killed in a shooting at the Route 91 Harvest Festival in Las Vegas. Local police have reportedly shot and killed the person they have identified as responsible for the shooting and do not believe another shooter is at large.
The Route 91 Harvest Festival is a three-day country music festival in Las Vegas, Nevada. The venue for the sold-out concert was located on the Las Vegas Strip near the Mandalay Bay Resort and Casino, and around 40,000 people were in attendance. Sunday constituted the last day of the event and featured a variety of country music performers throughout the day, including Jason Aldean, who was performing when the shooting occurred (Aldean has been confirmed safe).
According to CNN, Las Vegas Metropolitan Police Sheriff Joseph Lombardo told reporters that the first reports of shots being fired towards the festival from Mandalay Bay came at around 10:08 p.m. local time. The sheriff noted that a shooter had been located on the 32nd floor of the hotel and fired multiple rounds at concert-goers. As The New York Times reported, there appeared to be at least three rounds of rapid-fire gunfire lasting several seconds each.
The Times further reported that police immediately activated a SWAT response upon hearing initial reports of the shooting. Shortly before midnight local time, officers reported that a suspect was down and that they did not believe that there were any more shooters. Recently, police identified the gunman as a white male in his mid-60s and also noted that they are still seeking to locate a woman who they described as a companion of the gunman. Police said that the woman had been seen sitting in a car with the suspect prior to the shooting.
Tragically, officers have reported on Monday morning that more than 50 people were killed in the shooting and at least 200 have been injured. Two of the individuals killed were reportedly off-duty police officers.
Witnesses and concert-goers reported that there were scenes of complete panic and fear during and after the shooting. As they fled from the gunfire, people reportedly looked for cover anywhere they could — in stores, motels, gas stations, parking garages, and other nearby locations. Indeed, many sought refuge with strangers as they attempted to put distance between themselves and the gunfire.
Las Vegas resident Jackie Hoffing described her experience to The Guardian:
We were there enjoying our time and it was very obvious it was gunfire coming down into the crowd. It was hysteria. There were people trampled. I ran and I jumped walls and I was only with my husband. He stayed with me. We jumped walls, climbed cars, ran for our lives. I've never run that hard or been that scared in my whole life.
We've been in the motel. We knocked on a random door and went in there and hid in the bathroom for the past two and a half hours. We stopped in the lobby and thought we were safe then they came in and said the suspect is here, everybody has to run. It was another stampede. It was more panic than reality. I was texting my children, I thought we were going to die. I told them "I love you."
Concert-goer Megan Kearney outlined her harrowing experience when speaking with MSNBC:
We heard what sounded like firecrackers going off. Then all of a sudden we heard what sounded like a machine gun. People started screaming that they were hit. ... When we started running out, there were probably a couple hundred [people] on the ground.
As first responders and hospitals treat the victims of the Route 91 concert shooting, details will continue to emerge about their status. It is undoubtable that many people around the U.S. and the world are keeping those impacted by the shooting closely in their thoughts after this senseless tragedy.