A Massive Wildfire Is Razing Southern California & Forcing Thousands To Evacuate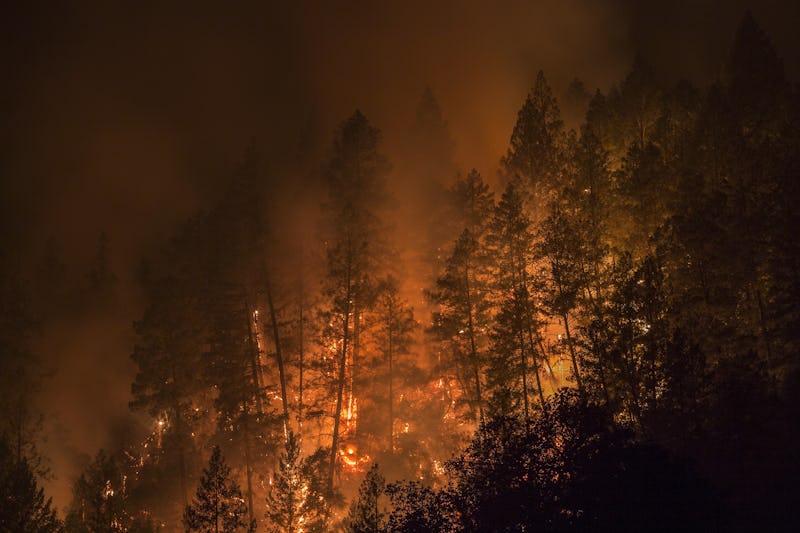 David McNew/Getty Images News/Getty Images
The year 2017 already marked the most destructive wildfire season in California's history. And on Monday night, another blaze decimated more acreage, caused thousands of homes to be evacuated, and endangered many more lives. The Thomas fire burned through Ventura County, California, northwest of Los Angeles, and was still ablaze on Tuesday morning. And with windy conditions making the wildfire difficult to fight, it's unclear when the Thomas fire will be fully stamped out.
As firefighters worked through the night, they confronted wind gusts of up to 50 miles per hour. Authorities also cited the "intensity" of the fire as another factor hampering efforts to get the Thomas fire under control.
Ventura County Fire Chief Mark Lorenzen told the press during a news conference:
The prospects for containment are not good. Really, Mother Nature is going to decide if we have the ability to put it out because it is pushing hard.
The Thomas Fire has burned 25,000 acres, with 7,786 homes receiving evacuation orders. At one point, the wildfire burned just a quarter mile from Ventura's city hall. Thousands more residents were left without power on Monday night, as the Thomas fire burned through a line crucial to supplying electricity to homes in Ventura, as well as nearby Santa Paula.
Fire officials are set to utilize air vehicles to help contain the blaze on Tuesday — because of the high wind gusts and limited visibility, no aircraft were allowed to fly Monday night. According to USA Today, officials have requested 12 helicopters and eight air tankers to help tamp down the Thomas fire.
Lorenzen said the goal was to "work edges of the fire" to ensure it stays clear of neighborhoods.
Already, some homes have been destroyed. At least one apartment complex is Ventura County caught fire, and several other structures also fell victim to the blaze.
One death has also been reported as a result of the Thomas Fire. A traffic accident on a road that had been closed due to the wildfire tragically resulted in one fatality.
The fire is expected to burn through at least 50,000 acres before it is put completely out, according to fire officials. Mountains between Santa Paula and Ventura comprise the bulk of the land expected to see the worst of the Thomas Fire.
Even if that is the case, residents in nearby areas will likely be impacted. With power outages already occurring, reports emphasize that restoring electricity will not be a priority. And that could leave thousands without power for "days."
2017 has been an especially devastating year of wildfires in California. In October, eight separate fires broke out in and around the state's wine country. The three largest fires — Tubbs, Atlas, and Nuns — together blazed through over 182,000 acres, causing mass evacuations and enormous damage to large swaths of Napa and Sonoma counties.
The October fires in northern California killed 40 people. More than 5,700 buildings were either ruined completely or damaged by the wildfires.
Experts cite particular circumstances leading into the autumn season that have contributed to the year's wildfires. After many years of drought, California had an unusually rainy summer. That precipitation caused explosive growth of vegetation in areas that had been previously emptied out for lack of adequate moisture. Then came a hot, very dry fall, which quickly parched the new plant life. Finally, add in what are known as the "diablo winds" — autumn gusts that blow through California from the northeast.
Urbanization has exacerbated these circumstances further, with more homes being built dangerously close to wild lands.
If Lorenzen is right about "Mother Nature" dictating when the Thomas fire will be finished, Tuesday's forecast for Ventura County will hopefully include low-to-no winds — it would be the best-case scenario for a California already battered by 2017 wildfires.