North & South Korea Will March At The Winter Olympics Under A Symbol Of Unity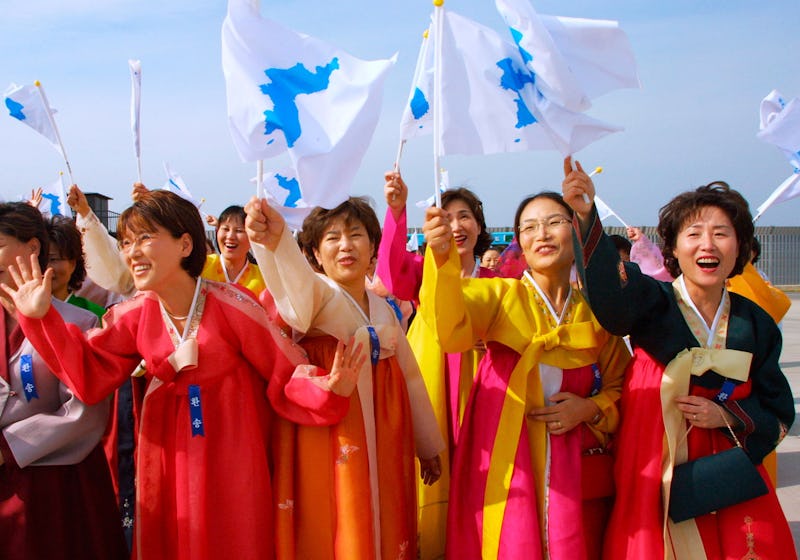 Chung Sung-Jun/Getty Images News/Getty Images
After days of diplomatic talks, South Korean officials announced Wednesday that the country's athletes would march with athletes from North Korea at the 2018 Winter Olympics in Pyeongchang. But athletes from the two Koreas won't just march side by side in the opening ceremony; they'll also appear under the same flag. So, what does North and South Korea's flag mean? Known officially as the Korean Unification Flag, the blue-and-white banner represents a united Korea.
In contrast to North and South Korea's respective national flags, the Korean Unification Flag is white with a blue silhouette of the Korean peninsula. According to Vox, North and South Korea first used the Korean Unification Flag in 1991 when the countries appeared together at the World Table Tennis Championships in Chiba, Japan. In fact, the 2018 Winter Games won't even be the first Olympics where the neighboring nations march together under one flag. Both nations marched under the Korean Unification Flag for the first time at the 2000 Summer Olympics in Sydney, Australia. They then marched together under for the 2004 Summer Olympics in Athens, Greece and at the 2006 Winter Games in Turin, Italy. But although North and South Korea marched united under one flag, the countries did not compete together at any of those Games.
North Korea is expected to send a 550-member delegation to the 2018 Winter Olympics. That delegation will reportedly include 230 cheerleaders, 140 artists, 30 Taekwondo players, and a number of journalists. The totalitarian nation has also agreed to form a joint women's ice hockey team with South Korea. This will mark the first time the two countries have each contributed athletes to form one team.
But a unified North and South Korea at this year's Olympics isn't a done deal just yet. The International Olympic Committee will have to sign off on the two Koreas' proposal, as well as weigh in on whether or not North Korea will be allowed to participate in the Games after missing a crucial registration deadline. According to the Associated Press, North and South Korea are set to meet with the International Olympic Committee this weekend to discuss the proposal.
Although President Trump has yet to comment on the matter directly, the White House so far has appeared cautiously optimistic about the news North Korea will have its athletes march alongside athletes from South Korea. "We hope that this experience gives North Korea and its athletes a small taste of freedom," White House Press Secretary Sarah Huckabee Sanders told reporters during a news briefing Wednesday. She went on to say the White House hoped that taste of freedom "rubs off" and spreads to impact future negotiations and conversations with the totalitarian nation.
Not everyone seems keen on the idea of having North Korea participate in the Winter Games next month, however. According to the BBC, some "tens of thousands of people" signed petitions urging South Korean President Moon Jae-in to veto the plan for a united delegation and a joint women's hockey team. Moreover, Sarah Murray, the head coach for South Korea's women's hockey team, argued the addition of North Korean athletes to the team could prove "damaging" to the South Korean athletes. "I think there is damage to our players," Yonhap News Agency reported Murray told reporters. "It's hard because the players have earned their spots and they think they deserve to go to the Olympics. Then you have people being added later. It definitely affects our players."
News the two Koreas hoped to march under a unified Korean flag at the upcoming Winter Olympics came as a number of nations allied with South Korea discussed whether they should increase sanctions against its northern neighbor. While South Korean officials have said they hope their negotiations extend beyond sports to North Korea's nuclear program, Japanese Foreign Minister Taro Kono warned against rewarding the communist country so quickly. "It is not the time to ease pressure, or to reward North Korea," Reuters reported Kono said. "The fact that North Korea is engaging in dialogue could be interpreted as proof that the sanctions are working."