The #DayWithoutAWoman Hashtag Will Send A Message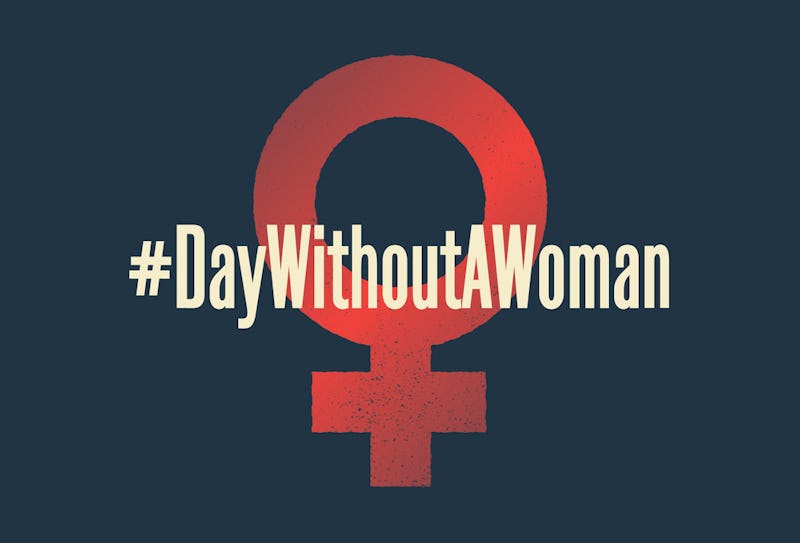 Thousands of women across the United States are getting ready to participate in the nationwide women's strike on Wednesday. The demonstration is officially called a Day Without a Woman, and the hashtag #DayWithoutAWoman is the primary tag being promoted by the organizers. If you're planning on being part of the protest, or if you'd like to keep up with other participants, you can expect #DayWithoutAWoman to be the primary filter for sharing and reading experiences, though the Women's March has also asked people to share why they're striking with the hashtag #IStrikeFor.
If it turns out to be nearly as widespread as the Women's March on Washington hashtag #WomensMarch (the events are led by the same organizers) which was featured in 11.5 million tweets throughout the day, there will be a lot of conversation to be found in #DayWithoutAWoman. The hashtags #WomensStrike and #ADayWithoutAWoman will likely get a lot of traction as well.
The strike, scheduled on International Women's Day, aims to demonstrate women's impact on the economy and in the workforce. "The goal is to highlight the economic power and significance that women have in the US and global economies, while calling attention to the economic injustices women and gender nonconforming people continue to face," reads the official site. "We play an indispensable role in the daily functions of life in all of society, through paid & unpaid, seen & unseen labor."
The effects are already apparent — schools all over the country have announced closures due to the high numbers of teachers requesting leaves for the day. Sixteen schools in Virginia, all 19 schools in the Chapel Hill-Carrboro district, and Brooklyn's Maple Street School are among the institutions to announce closures. With 80 percent of elementary and middle school teachers and 58 percent of high school teachers being female, schools will likely see some of the most dramatic effects of the strike.
The financial fallout is also expected to be significant. According to an estimate by the Center for American Progress, the U.S. would lose roughly $21 billion if all women in the country abstained from work for the day. Of course, many women won't be participating in the demonstration for a variety of reasons, but given the fact that more than half of the population is female, the economy will undoubtedly see an impact.
Those unable to participate in the strike are encouraged to wear red in solidarity with the movement. With women being the most active consumer base in America, not shopping on Wednesday is another way to send a message without striking.