Jeff Sessions Says Discrimination Against Transgender People At The Workplace Is Technically Legal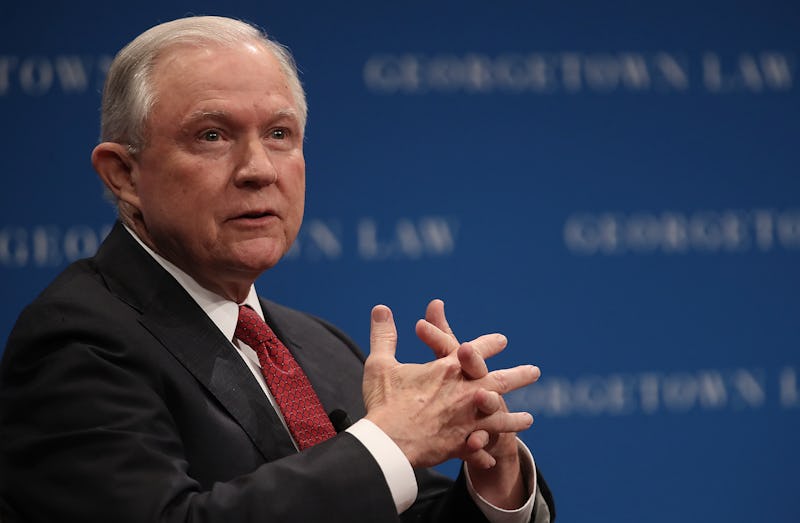 Win McNamee/Getty Images News/Getty Images
In a move that could stand to have far reaching consequences, Attorney General Jeff Sessions rescinded an Obama-era policy protecting transgender employees from workplace discrimination, according to a new report from Buzzfeed News. In reversing the policy, Sessions could leave approximately 1.4 million adults who identify as transgender vulnerable to workplace discrimination.
In a memo obtained by BuzzFeed News and reportedly sent out to U.S. attorneys and agency heads on Wednesday, Sessions announced the Department of Justice would no longer interpret Title VII of the Civil Rights Act of 1964, which prohibits discrimination in the workplace on the basis of sex among other things, as applicable to transgender employees. Rather, Sessions appeared to argue the law addresses discrimination between men and women and does not include discrimination stemming from or because of gender identity.
"Title VII's prohibition on sex discrimination encompasses discrimination between men and women but does not encompass discrimination based on gender identity per se, including transgender status," BuzzFeed News reported the memo from Sessions read. "Although federal law, including Title VII, provides various protections to transgender individuals, Title VII does not prohibit discrimination based on gender identity per se."
Sessions went on to say his was "a conclusion of law, not policy," adding the issue at hand was "what conduct Title VII prohibits by its terms, not what conduct should be prohibited by statue, regulation, or employer action." He argued the Department of Justice "must interpret Title VII as written by Congress."
Previously, under the Obama administration, the Department of Justice had concluded that Title VII's prohibition of discrimination on the basis of sex included gender identity, and was thus extended to transgender employees. In a memo published Dec. 18, 2014, then-Attorney General Eric Holder said the shift in policy would "ensure that the protections of the Civil Rights Act of 1964 are extended to those who suffer discrimination based on gender identity, including transgender status." Holder went on to say the new directive was intended to help "foster fair and consistent treatment for all claimants" and reaffirm the agency's "commitment to protecting the civil rights of all Americans."
Now, transgender advocates are slamming the Department of Justice for what they've characterized as a major step back for transgender protections. In a statement issued Thursday, Director of the American Civil Liberties Union's LGBT & HIV Project James Esseks accused the agency of being "cruelly consistent in its hostility towards the LGBT community."
This Department of Justice under Jeff Sessions has time and time again made it clear that its explicit agenda is to attack and undermine the civil rights of our most vulnerable communities, rather than standing up for them as they should be doing.
Discrimination against transgender people is sex discrimination, just as DOJ recognized years ago. We are confident that the courts will continue to agree and will reject the politically driven decision by Attorney General Sessions.
However, despite rolling back protections for transgender employees, Sessions claimed in his memo that the Department of Justice "must and will continue to affirm the dignity of all people, including transgender individuals." He went on to say that nothing in the memo "should be construed to condone mistreatment on the basis of gender identity."
Indeed, Devin O'Malley, a spokesperson for the Department of Justice, reportedly echoed a similar sentiment in a statement to Buzzfeed News:
The Department of Justice cannot expand the law beyond what Congress has provided. Unfortunately, the last administration abandoned that fundamental principle, which necessitated today's action.
O'Malley also claimed the agency remained committed to protecting all individuals civil and constitutional rights as well as enforcing the laws Congress has enacted regarding discrimination on the basis of sexual orientation.
More than a million adults stand to be affected by Sessions' decision to reverse Department of Justice policy regarding discrimination protections for transgender employees. According to an analysis of the 2014 Behavioral Risk Factor Surveillance System by Williams Institute scholars, roughly 1.4 million adults in the United States identify as transgender.