Hillary Clinton Is Backing A New Media Platform Called Verrit & Here's Why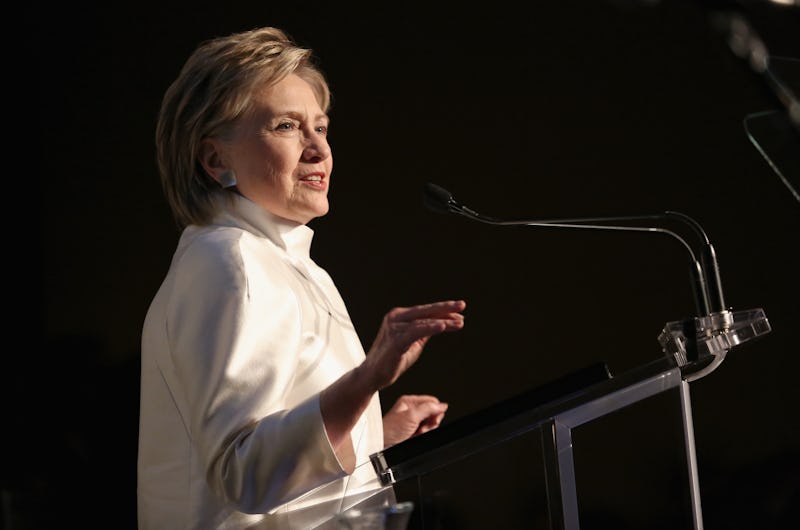 Monica Schipper/Getty Images Entertainment/Getty Images
Social media is abuzz with many users discussing Hillary Clinton's latest endorsement of a web platform called Verrit, something which is reportedly causing a bit of confusion. Twitter users seemingly want to know both what exactly Verrit is and why Clinton chose to plug the site on her own Twitter account.
According to its website, Verrit has a distinct goal of providing Clinton supporters and "like-minded" individuals with a reliable source of information. As its website describes,
Verrit's purpose is to become their [supporters'] trusted source of political information and analysis; to provide them (and anyone like-minded) sanctuary in a chaotic media environment; to center their shared principles; and to do so with an unwavering commitment to truth and facts.
Verrit also describes itself as "media for the 65.8 million," referring to the number of Americans who voted for Hillary Clinton in the 2016 presidential election. Verrit was created by Peter Daou, a former advisor to Hillary Clinton.
Verrit reportedly works by allowing users to create shareable "cards," or "verrits," with information (like facts or quotes) that can be verified as true. These cards also come with an authentication code so that one can confirm that the content of the card has not been altered. As News18 reported, Daou noted that the cards are intended to be easily shareable and used as readily accesible information in social media debates.
Verrit is now receiving a great deal of attention because, on Sunday, Clinton herself took to Twitter to plug the platform that cites her supporters as its target audience. Clinton tweeted, "I'm excited to sign up for @Verrit, a media platform for the 65.8 million! Will you join me and sign up too?" Clinton also shared a link to the platform's website in the same tweet.
In addition to Clinton's endorsement, the site is also receiving significant attention because it was reportedly subject to a massive cyber attack shortly after Clinton tweeted her support for the platform.
As Daou, the site's founder, told Recode, the cyber attack was "pretty significant and sophisticated" and resulted in the website being shut down for a period of time.
Verrit's website does appear to be back online, though many social media users are still not exactly clear on what Verrit is or how it works. However, Daou did note to Recode that the project is just getting started and that he is still assessing how it will expand and grow. As time goes on, everyone will likely have a much clearer idea of what Verrit entails and for what exactly it stands.