The One Thing That Might Make Ivanka's Foreign Trips A Bit Difficult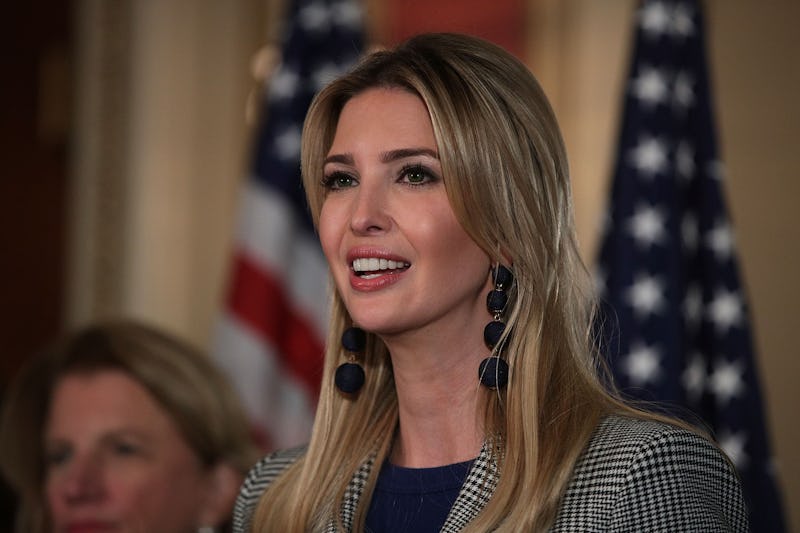 Alex Wong/Getty Images News/Getty Images
Since joining her father's administration, Ivanka Trump's been engaging in a myriad of diplomatic efforts around the world, including a February visit to the Olympics in PyeongChang and a trip to the Summit of the Americas this month in Lima, Peru. Like many other White House officials, she didn't enter her job with any statecraft experience. But she might be aided — in some small way — by the few foreign language skills she possesses. There are a couple of second languages that Ivanka Trump speaks with varying degrees of fluency.
It seems likely that the only language Trump can speak with a significant level of proficiency is French. The Morning Call, a Pennsylvania newspaper, reported in 1989 that she speaks French and also understands a bit of Czech. Ivanka's mother, Ivana Trump — who was born in the Czech Republic, then known as Czechoslovakia — told the newspaper at the time:
Our oldest son, Donald, speaks Czech very well. Ivanka understands Czech, but the youngest is lazy. Of course, my parents now speak English well, so there's no reason to learn, I guess. But I'm working on it. They all speak French because they have it in school.
Ivanka has tweeted confirmation that she at least knows curse words in Czech, but otherwise, her foreign language skills don't really seem to extend far beyond French.
This month, Trump is headed to Lima, Peru, for the international Summit of the Americas, where she will speak about women's economic empowerment and U.S. interests. She's preparing to address leaders and participate in meetings in a country whose official language is Spanish, and she's also been sharing tweets in Spanish, but it doesn't seem that she knows the language herself, at least at any significant level.
The posts she's retweeted on Twitter came from an exclusive interview she recently gave with El Comercio, a Lima-based Peruvian newspaper. Her conversation with the paper was published in Spanish, but her words were presumably translated from English.
The paper asked about her father's America First agenda, to which she replied (in translation): "America First does not mean America alone. For America to succeed we recognize the importance of strengthening our relationships with our allies and neighbors, and working together to support global stability, peace and prosperity."
Ivanka is trying to raise bilingual kids, too. French isn't her language of choice for them, though; instead, it's Mandarin. All three of her kids have started learning Chinese, and her oldest, Arabella, is fairly adept at only 6 years old.
Ivanka has posted several videos on social media of her speaking and singing in Mandarin that have gone viral in China. President Trump even showed the Chinese president and his wife a clip of Arabella singing a song in Mandarin about the Chinese landscape in a rare example of soft power.
Much of President Trump's family is bilingual. Ivanka is far outshone in language capabilities by her mother and stepmother. Ivana speaks Czech, English, Russian, and reportedly two others; Melania speaks Slovenian, English, French, German, and Serbian. It's rumored that she knows Italian, too.
The president himself has no foreign language skills, which is a bit puzzling since two of his wives were born in other countries. But the first lady, at least, doesn't seem to mind.
"He speaks English. That's it. And that's O.K.," she told Harper's Bazaar in 2016. "I'm not that kind of wife who would say, 'Learn this' or 'Learn that.' I'm not a nagging wife."
But her own language aspirations, as well as those of Ivanka, Donald Trump Jr., and those of much of the rest of the family, are considerably higher. Next on the first daughter's list — though it doesn't exactly count — might be coding. She's been working on learning it a bit with Arabella and calls it "the language of the future."