Meghan Markle Always Wears The Same Lipstick Shade — And I Think I Found It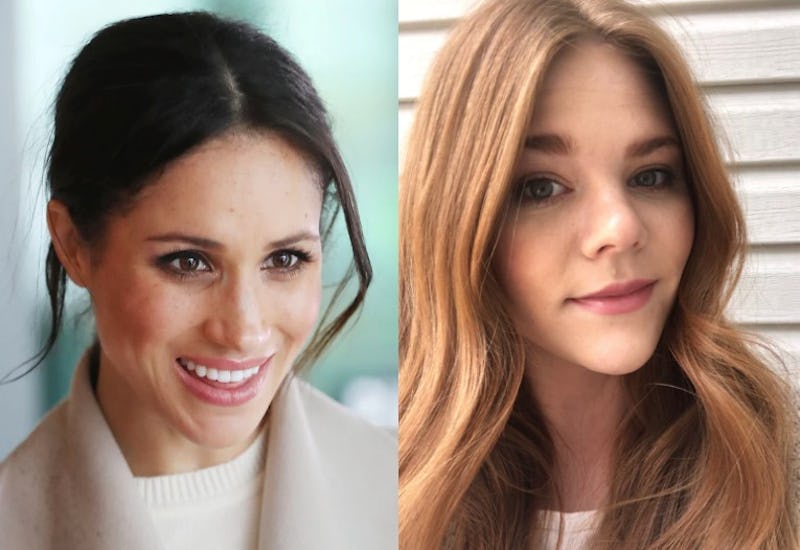 Pool/Getty Images Entertainment/Getty Images/Kali Borovic
The Meghan Markle effect is real, and I'm not just talking about her fashion. Every single time that the soon-to-be royal steps into the public eye, she's wearing something that people inevitably become obsessed with. But there's one thing that always stays very consistent — her lipstick. Meghan Markle always wears the same lipstick when she's on her royal outings, and subsequently, there has been a lot of debate about which shade of lipstick is Markle's favorite. While Allure reported that the shade is Charlotte Tilbury's lipstick in Very Victoria, celebrity makeup artists don't completely agree.
"By the looks of it, there's a great chance she's wearing Chanel lipstick in these photos. To me it looks like she's wearing 'Adrienne' Rouge Coco Ultra Hydrating Lip Color," celebrity makeup artist Patrick Ta tells Bustle.
Avon celebrity makeup artist Kelsey Deenihan agreed with Ta on the brand, but tells Bustle that it's more likely the shade Cécile.
So, which one is it? In an attempt to set the record straight once and for all, I tried every single lipstick that people think it might be. The options included Charlotte Tilbury Lipstick in Very Victoria, Penelope Pink, and The Duchess as well as Chanel's Rouge Coco Lipstick in Cécile and Adrienne.
Personally, I thought that she was just wearing a lip balm, since her lips seem to have a light wash of color and glossiness. So when I heard that she loves the Fresh Sugar Lip Treatment, I thought that it had to be that. But as soon as I applied the Chanel shades, I started to change my mind. Cécile and Adrienne are shades that enhances the natural color of lips without masking it. The formula is sheer pink with a slight sparkle to it. They are both the kind of color that looks great right when you apply it and after it's been worn for a few hours. Plus when it starts to fade, you almost can't notice. Basically, it's great for an on-the-go royal.
While neither Chanel nor Charlotte Tilbury would comment on whether or not Markle wears the brand's lipsticks, I will say that they're both great options for getting a royal lip. While Chanel's formula was closer to the public images of Markle, the names of Charlotte Tilbury's would fit the part.
But don't just take me word for it, see for yourself.
Charlotte Tilbury's Very Victoria
Kali Borovic
Chris Jackson/Getty Images Entertainment/Getty Images
This is the shade that many publications report is Markle's go-to shade. As you can see from the photo it looks darker on me than it does on her, but that could be attributed to our difference in skin tone.
Chanel Rouge Coco in Cécil
Kali Borovic
Chris Jackson/Getty Images Entertainment/Getty Images
This shade gives off the perfect amount of color that enhances but doesn't mask the lips. The way that is faded off my lips throughout the day also made me believe that it was Markle's go-to shade — something about it felt very familiar.
Charlotte Tillbury's The Duchess
Kali Borovic
Chris Jackson/Getty Images Entertainment/Getty Images
While this shade is definitely in the same pink family, it's a little too dark to be Markle's go-to (even when taking our difference of skin tone into consideration). Especially since it keeps its' rosy hue even as it begins to fade. It's a gorgeous color, just not the most royal, if you will.
Chanel Rouge Coco in Adrienne
Kali Borovic
Pool/Getty Images Entertainment/Getty Images
If Markle's favorite shade isn't Cécile, then it could be this one. Everything from the shine to the shade was spot on. Bonus points that it looks incredible with any eyeshadow look as well.
I will admit that I was a bit disappointed to see that the shade didn't match with Charlotte Tilbury's lipstick shades. It would have been incredible to think that she was wearing a shade called The Duchess or Very Victoria. But during my wear test, the shade didn't look anything like Markle's. The problem was that the colors are too opaque to be a match.
If you're looking to get the same lip tint as Markle, the Chanel Rouge Coco Lipstick will set you back a cool $37. While that's not exactly the most affordable out there, it's likely the closest to royal that you will ever come. If you can't wear the crown, the lipstick is the next best thing.