Mika Brzezinski Puts A Stop To Kellyanne Conway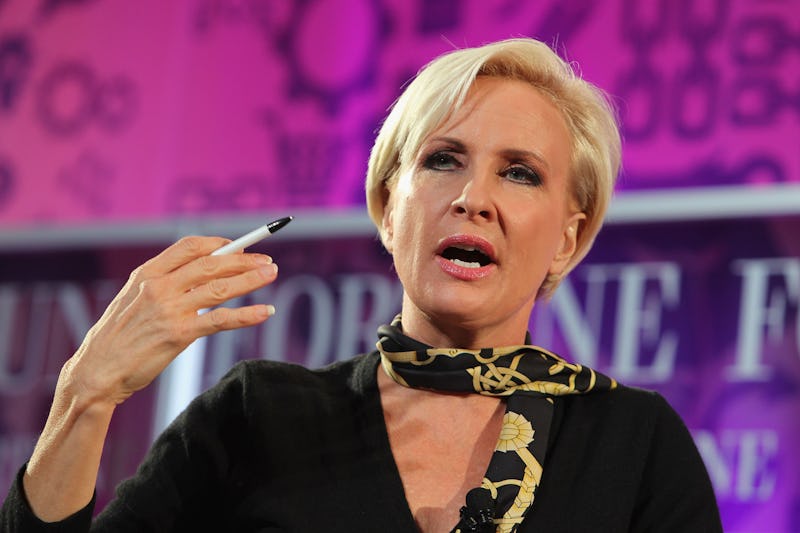 Paul Morigi/Getty Images Entertainment/Getty Images
The host of one weekday morning talk show is fighting back against fake news by cutting it off at the source. Mika Brzezinski banned Kellyanne Conway from MSNBC's Morning Joe on Wednesday, citing concerns the Trump campaign manager turned counselor to the president was "not credible anymore." Along with being what is hopefully the beginning of a growing trend, Brzezinski's decision to effectively cut Conway's mic proves that sometimes the best way to resist is by simply saying no.
"At times in recent days, Kellyanne Conway has struggled to be on the same page, to say the least, as the rest of the staff in the White House," Brzezinski said during Wednesday's episode of Morning Joe. Brzezinski then played a clip highlighting statements Conway gave about National Security Adviser Michael Flynn during various television interviews which directly contradicted statements made on the matter by White House Press Secretary Sean Spicer.
"I know for a fact she tries to book herself on this show; I won't do it," Brzezinski went on to say. "I don't believe in fake news or information that is not true. That is — every time I've ever seen her on television something is askew, off, or incorrect."
When Joe Scarborough, Brzezinski's co-host, attempted to frame Conway's repeated misinformation as more symptomatic of her irrelevance and lack of access in the White House than of a willingness to lie, Brzezinski appeared resolute in her insistence that Morning Joe wouldn't be giving Conway any airtime. "Kellyanne Conway does not need to text our show, as long as I'm on it," Brzezinski said. "It's not happening here."
As a representative of the new White House administration Conway has done less clarifying and more confusing since Trump was sworn into office. Since the inauguration, she has attempted to spin easily disproved false statements about crowd size from the White House as "alternative facts," made up a fake "massacre" in her attempt to justify Trump's executive order to ban travel from seven predominantly Muslim nations, and – in a potential violation of federal rules – used a TV appearance to endorse Ivanka Trump products.
While Brzezinski may be the first talk show host to levy an outright ban, she isn't the first to criticize Conway's muddling statements or question her credibility. Earlier this month, CNN reportedly declined to have Conway on as an interview guest. And last month New York University journalism professor Jay Rosen urged media networks not to interview Conway in an interview on Recode Media podcast with Peter Kafka, saying the logic of relying on her as a source "is growing dimmer with every interview."
As media organizations grapple with how best to report on a seemingly fact-challenged president, Brzezinski's decision to stop giving airtime to a source with questionable credibility seems like a no brainer. Yet, as anyone who's ever found themselves unable to turn away from a train wreck knows, it can be hard to look away. However, perhaps one of the best ways to effectively resist the Trump administration's penchant for spreading "alternative facts" is to stop normalizing the behavior by giving them a platform to speak on in the first place.