What Obama Did For Women In His First 100 Days Vs. Trump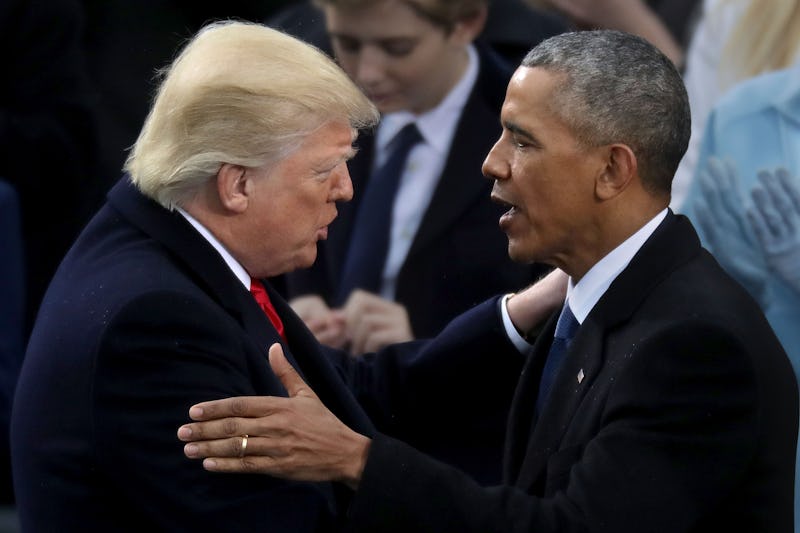 Chip Somodevilla/Getty Images News/Getty Images
Of all the ways that President Donald Trump differentiated himself from his opponent Hillary Clinton during the 2016 presidential election, perhaps none was more clear than on women's issues. Clinton ran as the first female nominee for president from a major political party. Trump was famously heard on tape about non-consensual sexual behavior.
Now that Trump has been president for the arbitrary milestone of 100 days, it's worth looking back at his first three months on issues that affect women. Beyond just the symbols of the election, how have Trump's actions during his first three months as president affected women, both in the United States and around the world?
Below, I have examined several aspects of policy that affect women coming from the new administration, comparing them with the record of his immediate predecessor, Barack Obama, for reference. Near the end of Obama's term, the 44th president wrote an essay in Glamour magazine declaring himself to be "what a feminist looks like." Let's look at President Trump's first hundred days, and figure out whether Trump, despite all the rhetoric in the campaign, may end up with policies that could lead him to say the same at the end of his term.
Appointing Women In Government
The most visible aspect of government policy, especially at the very beginning of an administration, is the appointment of women to high-level positions in the executive branch. Neither Obama or Trump was bold enough to appoint women to their cabinet at the same numbers that they appointed men, but Obama certainly has the edge here. Of the 15 members of Obama's initial core cabinet, four were women — Secretary of State Hillary Clinton, Secretary of Homeland Security Janet Napolitano, Secretary of Health And Human Services Kathleen Sibelius, and Labor Secretary Hilda Solis. In contrast, President Trump has only appointed two women — Secretary of Education Betsy DeVos, and Secretary of Transportation Elaine Chao.
If you expand beyond the core cabinet, to several other positions commonly referred to as "cabinet-level," there is a similar divide in Obama's appointments of women from Trump's. Obama initially appointed four more women at "cabinet-level" — United Nations Ambassador Susan Rice, Environmental Protection Agency Administrator Lisa Jackson, Chair of the Council of Economic Advisors Christina Romer, and Administrator of the Small Business Administration Karen Mills. Trump, in comparison to Trump's two appointees — UN Ambassador Nikki Haley and Small Business Administrator Linda McMahon.
Beyond the cabinet level, both administrations have appointed numerous other women to high offices. In the Trump administration those include Senior Counselor Kellyanne Conway, Deputy National Security Advisor Dina Powell, Administrator for the Centers for Medicare and Medicaid Services Seema Verma, and the president's daughter, who holds a still-unclear position advising the president.
These appointments can seem purely symbolic, but according to Georgetown political scientist Michele L. Swers, they can go beyond that. "There generally is an effect of having more diverse voices at the table," Professor Swers tells Bustle. Based on Swers' research on women in legislatures, "women are a little more likely to advocate for policies related to women, family, and children."
Global Women's Rights
The focus by Secretary Clinton on advancing women's welfare was most clear in the creation of a new position and office at the State Department early in her time there, the Office of Global Women's Issues. In Obama's first hundred days, he appointed Melanne Verveer, who had previously been Hillary Clinton's chief of staff when she was first lady, as the inaugural Ambassador-At-Large for Global Women's Issues.
So far, that position has remained unfilled by the Trump administration. According to a report in Foreign Policy, its budget may be zeroed out. The move seems to line up with a greater de-prioritization of affirmative advocacy for women's rights worldwide.
"It disappearing is basically a message saying that the US diplomatic corps will no longer be putting women and girls first," Emily Bove, Executive Director for Women Thrive International, a women's advocacy organization, tells Bustle.
The greatest influence of the Trump administration could be seen in the sphere of foreign aid. Immediately after taking office, the president reinstated the Mexico City Policy, which bans U.S. funds from going to aid organizations that not only perform abortions but even offer information on how to get abortions.
"It's really sending a very strong message that women and girls can no longer count on the U.S. government to have their back in situations where really there are no other or access to services available."
And going beyond that, the Trump administration has also cut off funds to the United Nations Population Fund (UNFPA), which provides reproductive, family planning, and sexual health care to people that need it worldwide, including many in dangerous situations. According to the organization, UNFPA averted 200,000 child deaths in 2015, in addition to preventing 12.3 million unintended pregnancies and 33,000 maternal deaths.
"It's not just defunding UNFPA, it's defunding UNFPA during the most serious refugee crisis of all time," says Bove. "It's defunding UNFPA at a time when a lot of women and girls living under ISIS or under violent extremism rely on these services to stay alive when it comes to their reproductive and sexual health needs. It's really sending a very strong message that women and girls can no longer count on the U.S. government to have their back in situations where really there are no other or access to services available."
Reproductive Rights
On the domestic front, President Trump has made changes to reproductive rights in America without being able to directly change things. He cannot, as president, overturn Roe v. Wade and keep abortion from being illegal nation-wide. But he has set in motion actions that will likely make access to abortion and other reproductive services more difficult in the future.
In his first hundred days, President Trump succeeded in getting Neil Gorsuch, a long-time conservative, confirmed to the Supreme Court. Pro-choice groups strongly opposed his nomination, on the fear that he might jeopardize abortion rights guaranteed by the Supreme Court. In contrast, shortly after his first 100 days, President Obama got Sonya Sotomayor confirmed to the court, the first woman of color, who was one of the 5 votes in the majority in the case of Whole Woman's Health v. Hellerstadt, a 2016 court decision preventing states from passing laws making abortion too difficult to access.
President Trump also signed into law a bill overturning an Obama-era regulation, that has effectively forbidden states from depriving Planned Parenthood of Title X family planning funds. While no state has yet done so, attempts by previous states such as Texas before the Obama regulation suggest that many states may choose to in the future.
"It's this whole scare-tactic, fear, aggressive action against access to abortion," Wayne Shields, president and CEO of the Association of Reproductive Health Professionals, tells Bustle. "He's raised the bar on how aggressive he's being to dismantle any kind of access to family planning and abortion."
The most aggressive attempt by the Trump administration to limit abortion access was by attempt to defund Planned Parenthood as part of the American Health Care Act. However, that efforts was halted in the House as Trump's attempts at healthcare reform failed.
The Gender Wage Gap
Shortly after entering office, the very first piece of legislation that President Obama signed into law was the Lilly Ledbetter Fair Pay Act of 2009. The act was in direct response to a 2007 Supreme Court case where the court ruled that Lilly Ledbetter, an employee of Goodyear Tire & Rubber, could not sue for wage discrimination because she realized the discrepancy between her pay and that of her male co-workers after the statute of limitations on pay discrimination had expired. The Lilly Ledbetter Act reframed how these lawsuits worked, making each individual paycheck count as a new instance of pay discrimination.
"Increased attention to equal pay is definitely a response to the priorities that the Obama administration placed on equal pay," says Emily Martin, General Counsel and Vice President for Workplace Justice at the National Women's Law Center. "In the absence of the Ledbetter Fair Pay Act, I would be concerned that we would have seen a widening of the wage gap, because the Supreme Court Ledbetter decision really took away protections that had long been in place."
Later in the Obama administration, the president signed an executive order requiring federal contractors to disclose pay of their employees in order to combat wage discrimination. In late March, President Trump revoked that order.
Thus far, Trump hasn't made any significant actions beyond on this issue. During the campaign, Ivanka Trump unveiled a family leave plan, but so far, there has been no public action on that in Congress, and little indication of serious action from the administration.
At this point, it is unlikely that Trump will close his White House time with an essay proclaiming himself a feminist. However, like Obama, his presidency will have a significant impact — for better or for worse — on the advancement of women at home and abroad.