What Obama Has Been Up To Since Leaving Office Is Almost Too Much To Keep Up With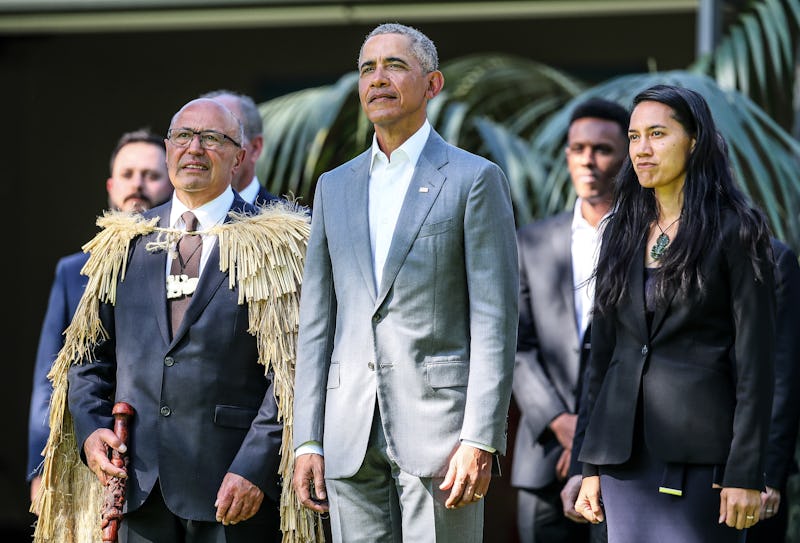 Pool/Getty Images News/Getty Images
Jan. 20, 2017 marked the last day of Barack Obama's eight year tenure as president of the United States. Since it's been over a year and a half since his departure from the White House, you may be wondering what Obama has done since leaving office. As it turns out, the 44th president has kept incredibly busy.
For one, Obama has taken a more active role in the Obama Foundation, a non-profit headquartered in Chicago. In fact, in October of last year, he and Michelle held the foundation's inaugural summit, during which the former president spoke about the importance of civic engagement and community building. In May, the Obama Foundation hired its first-ever fellows, who are working on different projects to improve their communities. According to the Herald & Review, the former president welcomed the fellows with a roundtable discussion in Chicago.
Furthermore, since exiting the White House, Obama has traveled the United States and world giving speeches. Among other gigs, he's spoken at a Beau Biden Foundation event and at a discussion for at-risk youth in Chicago. Kevin Lewis, Obama's spokesperson, told the New York Times that Obama selects his speaking endeavors based on his values and often contributes some of the monetary proceeds to charitable endeavors.
In addition to foundation work and speaking events, both Obama and Michelle have also been actively involved in writing their own memoirs following their White House tenure. As Newsweek reported in March 2017, the couple signed a joint book deal with Penguin Random House that is reportedly worth over $65 million. Michelle's book, which is entitled Becoming, is scheduled to be published in November, while Obama's does not yet have a publication date.
Beyond their joint book deal, the former first couple also recently signed a production deal with Netflix. According toVariety, as part of the deal the Obamas will produce movies and series for the company. When the deal was announced back in May of this year, the former president expressed his excitement about what lies ahead, saying (as reported by Variety):
One of the simple joys of our time in public service was getting to meet so many fascinating people from all walks of life, and to help them share their experiences with a wider audience ... That's why Michelle and I are so excited to partner with Netflix — we hope to cultivate and curate the talented, inspiring, creative voices who are able to promote greater empathy and understanding between peoples, and help them share their stories with the entire world.
Obama has also taken the time to publicly weigh in on policy issues when he felt it was important. For example, in September 2017, he released a statement after the Trump administration ended the Dreams Deferred for Childhood Arrivals (DACA) program, a hallmark of Obama's presidency. The DACA program allows undocumented immigrants who came to the United States as children to receive a reprieve from deportation and the right to legally work in the country.
In his statement, Obama decried Trump's decision, saying:
... Today, that shadow has been cast over some of our best and brightest young people once again. To target these young people is wrong — because they have done nothing wrong. It is self-defeating ... And it is cruel ... Let's be clear: the action taken today isn't required legally. It's a political decision, and a moral question. Whatever concerns or complaints Americans may have about immigration in general, we shouldn't threaten the future of this group of young people ...
Obama has similarly released statements or publicly commented on several other issues as well, including Trump's withdrawal from the international Paris Climate Agreement and on congressional Republicans' repeated efforts to repeal Obamacare.
Finally, while he mostly stayed out of the political arena in his early post-presidency period, Obama has recently begun actively campaigning for candidates and more openly discussing the impact of Trump's presidency on the United States. As Politico reported, in a speech at the University of Illinois on Sept. 7, Obama stressed the importance of voting in the upcoming midterm elections, saying,
Now, some of you may think I'm exaggerating when I say this November's elections are more important than any I can remember in my lifetime. I know politicians say that all the time ... But just a glance at recent headlines should tell you that this moment really is different. The stakes really are higher ...
Obama's University of Illinois speech marked the beginning of his foray into midterm election campaigning. On Sept. 8, the former president campaigned in California for seven Democratic candidates for the U.S. House of Representatives, the Washington Post reported. As ABC 7 Chicago noted, the 44th president also has a host of upcoming campaign events, including one for Ohio's Democratic gubernatorial candidate, Richard Cordray, and several events in Pennsylvania, Illinois, and New York as well.
Overall, Obama has appeared to fully lean into his post-presidency life, involving himself in a variety of projects and also remaining deeply committed to public service. Certainly many Americans are looking forward to seeing what the future will hold for the 44th president.