Why The 2018 Olympics Could Be Big For Russian Athletes (Even Though They're "Banned")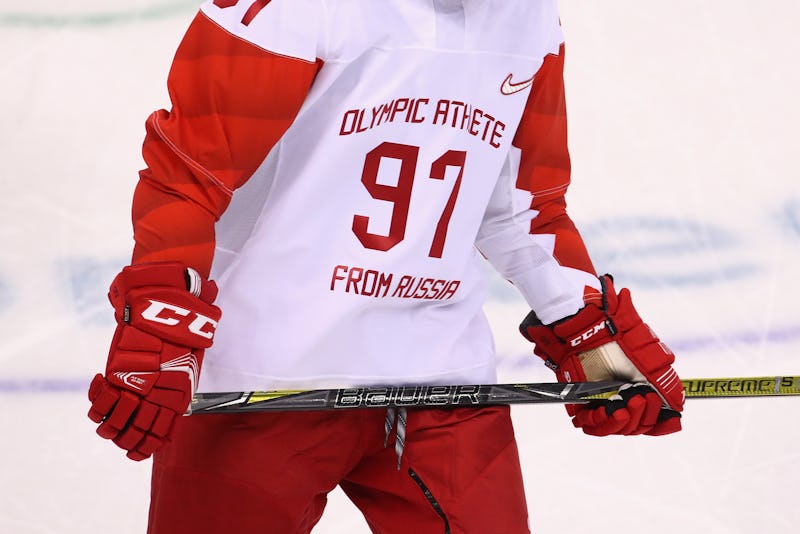 Bruce Bennett/Getty Images Sport/Getty Images
Russian athletes might be banned from competing in the 2018 Winter Olympics under their nation's flag, but that hasn't stopped them from scoring medals. So far, the "Olympic athletes from Russia," a.k.a. OAR, have taken home two medals: one silver and one bronze, both for figure skating. But what other sports are OAR athletes competing in at the 2018 PyeongChang Games? You can expect to see them everywhere, pretty much, as they'll be competing in all 15 Winter Olympic sports.
Athletes on Team OAR had to be invited by the International Olympic Committee (IOC), which banned Russia from competing in the 2018 Winter Olympics because of a huge doping scandal. There are 168 Russian participants in this year's games, making it the 3rd largest athlete delegation in PyeongChang, behind the United States and Canada. And while there aren't any competitions that athletes from Russia are specifically restricted from, a lot of events still will be greatly impacted by the IOC's ban.
For instance, in men's short track speed skating, Russia's Viktor Ahn previously won three gold medals and a bronze. Ahn wasn't invited to the 2018 games, and only two men and two women will skate while representing OAR, which excludes the team from competing in the men's 5000-meter relay. At the 2014 Sochi Games, Russia took home the gold for that event.
Men's cross-country skiing will also be impacted by the ban. The Russian team brought in eight medals, including two gold, between the 2010 Vancouver Games and Sochi, according to The Score. It's one of only three sports that have no returning Russian athletes from previous Olympics. The sport was hit especially hard by the Russian doping scandal: gold medalist Alexander Legkov wasn't able to return in 2018, nor were three other medalists, including Maxim Vlegzhanin, Alexander Bessmertnykh, and Nikita Kryukov.
Another event that has no returning Russian athletes this year is the men's and women's biathlon, which consists of five different skiing competitions for men and women, as well as mixed gender relays. The women's side was affected most by the IOC ban: of the six women who represented Russia in the 2014 Winter Olympics, four have been banned from future games because of doping violations. The third event that won't have any returning Russian competitors is curling, but seven athletes are still representing Team OAR for that sport in PyeongChang.
Women's ice hockey will also be impacted by the IOC's ban. Russia's team places No. 4 in the International Ice Hockey Federation rankings, which means they automatically advance to the tournament's quarterfinals. However, because of the ban, only six of 23 athletes that played in Sochi will compete in PyeongChang. In 2014, Russia's team finished sixth out of eight, before six of its players were banned from the games for life amid doping allegations.
Despite Russia's Olympic strength seeming decimated by the IOC's ban, the country's athletes could put on as strong a showing as ever. Fourteen of the athletes competing were medal winners at the most recent world championships in their respective sports, including two gold medals, according to Reuters. In fact, the squad of Olympic athletes from Russia is just ten people shy of the team Russia fielded in Vancouver, where 179 athletes represented the country. So there's definitely a chance Russian athletes could hold onto their lead in a lot of competitions.
For instance, despite losing some star skaters to the IOC ban — including Ksenia Stolbova, who won silver and gold medals in pairs skating at the 2014 Sochi Games — Team OAR won both of its medals so far in figure skating. Ekaterina Bobrova and Dmitri Soloviev took home the silver medal for team figure skating, and Natalia Zabiiako and Alexander Enbert won the bronze medal for pairs free skating.
In Sochi, Russia won 33 medals in total, including 13 gold medals. However, the IOC later stripped the nation of 13 medals, including 4 gold medals, due to doping charges. While Team OAR may not be able to bring home as many medals as Russia ha in the past, it looks like they're definitely still in the fight.