This Is What Regina George's Little Sister From 'Mean Girls' Looks Like Now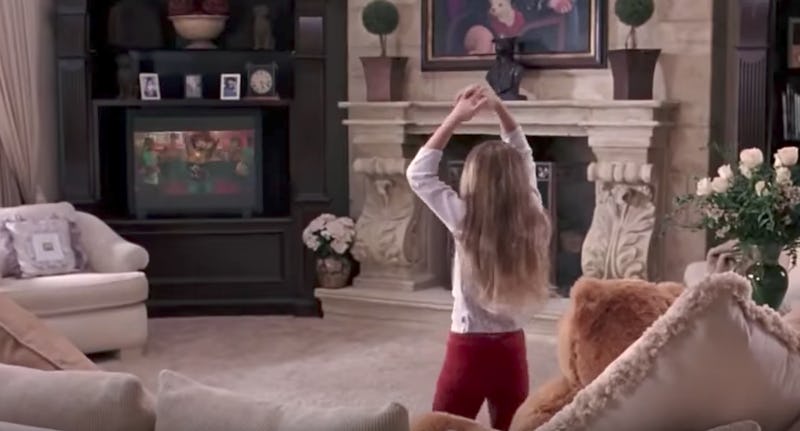 Paramount Pictures/YouTube
Some fans would be able to let go of an instant classic like Mean Girls, but you're not a regular fan, you're a cool fan, and you want to know what Regina George's little sister looks like now. In fact, you want to know every single detail and update to this movie that exists, for the rest of your born days — as well you should. Not only does the actress look completely different now, which is fun in and of itself, but this is a chance to reminisce over some hilarity and brilliant script-writing. So get in, loser, we're going down memory lane.
She may have had one of the smaller parts in the movie, but you definitely remember Kylie George. She was the... ahem... very-advanced-for-her-age little girl who gyrated in front of the television to the videos for songs like Kelis' "Milkshake." The actress' name is Nicole Crimi, and, in the 14 years since she played Regina George's pint-sized mini-me, she's stayed just as obsessed with the movie as the rest of us.
Tuesday was Oct. 3, which has become the unofficial National Mean Girls Day, ever since Aaron Samuels turned around on that fateful day to ask Cady Heron what the date was.
We all celebrate in different ways, but Crimi, who's now 21 years old, celebrated with a throwback photo commemorating her time on the set. In it, the youngster stands beside Amy Poehler, who played her mom in the film and whom she tells BuzzFeed she really bonded with on set.
"I mostly remember playing games with anyone that had time and laughing because they put dog treats in Amy Poehler's shirt to get that dog to bite it in that one scene. Amy Poehler is just a really funny person and I loved hanging out with her!"
The young actress would have spent most of her time on set with Poehler, because all of their scenes were together. And even though the famous face doesn't crop up in her photos anymore, Crimi is still living quite the life, as evidenced by her Instagram.
There are recent shots of the Canadian actress everywhere, from the Maldives to Ontario's Albion Falls to Dubai. And when she isn't jetsetting around the world, the dancer and artist — that's right, she paints — attends McMaster University in Hamilton, Ontario.
Here she is, showing some school pride...
And giving us serious FOMO on a recent vacation...
And just casually relaxing in the world's tallest building. NBD.
She's come a long way and grown up a ton since Mean Girls came out in 2004. But, even more worryingly, look how much you've grown up since then. If this is the tiny little girl who used to shake her hips around to music far beyond her maturity level, then what's happened to all of us in the years since? Is it time to make a wig of your mom's chest hair and call it a day?
But, seriously, Crimi really is living an incredible life, by the looks of it. Apparently, nonstop music videos that young doesn't rot your brain quite as much as you might think. Especially when you take a look at the kind of paintings that this wunderkind is turning out. She has a whole separate Instagram for her art, and each piece is more impressive than the last.
It just goes to show you that if Nicole Crimi can act in your favorite movie, travel the world, and learn to paint like this by the time she's 21, then you have even more potential than you realized. So get off your butt and make something of yourself... right after you watch Mean Girls just one more time.