Here's What Registering As A Foreign Agent Means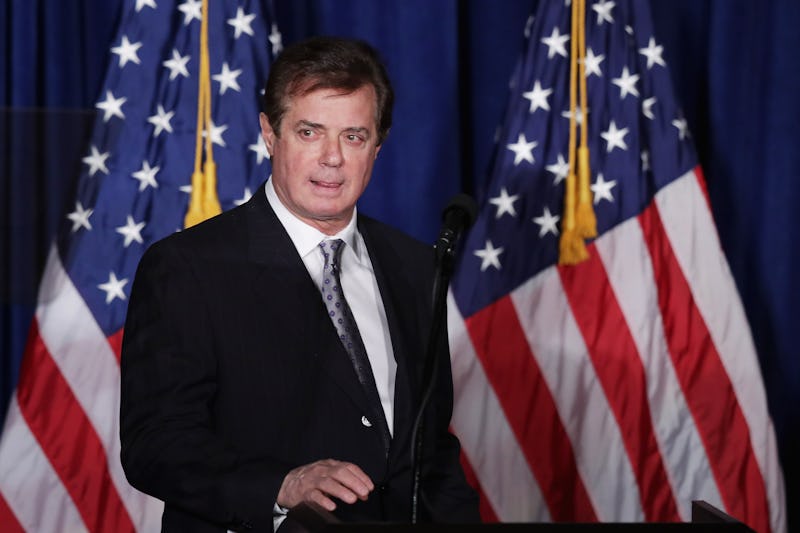 Chip Somodevilla/Getty Images News/Getty Images
Just like former general and national security adviser Mike Flynn did after departing from the Trump administration amid scandal, former Trump campaign manager Paul Manafort may reportedly register with the United States government as a foreign agent. It's a headline-grabbing development to be sure, especially amid multiple investigations (by the House, the Senate, and the FBI) into allegations of collusion between the Trump campaign and Russia, which Trump and his advisers have denied. But what does registering as a foreign agent actually mean, and what does it suggest for Manafort and the administration going forward?
First things first: Whether or not you believe it's a bad look for Manafort and therefore Trump, it's certainly not a good one. Trump's nativist, nationalist message has been undercut in the early months of his presidency by ever-growing scrutiny of Russia's alleged attempts to get him elected, and whether people in his campaign actively coordinated with the foreign government to do so. It's a very dire possibility, and one which FBI director James Comey has confirmed is a matter of an active FBI investigation. Trump and those in his orbit have vigorously denied such allegations.
Regardless, according to the Associated Press, Manafort is considering registering as a foreign agent. NBC News reports that Manafort's spokesperson refused to say whether he was or wasn't, but that he'll be taking "appropriate steps." This could mean that two former Trump higher-ups, Manafort and Flynn, will have had to register as such, though neither is registered as working in the interests of the Russian government ― for Manafort it'd be Ukraine, whereas Flynn filed due to his work for the Turkish government.
So why is this necessary, and how does it work? It's all thanks to the Foreign Agents Registration Act (FARA) of 1938, which mandates that Americans working in the interests of foreign powers register as such:
...persons acting as agents of foreign principals in a political or quasi-political capacity to make periodic public disclosure of their relationship with the foreign principal, as well as activities, receipts and disbursements in support of those activities.
The basic upshot is that the law enables the government to identify and keep a registry of Americans who're actively serving the interests of foreign powers. It's clear enough why a government would want to keep track of such people ― being paid to advance foreign interests could leave someone susceptible to harming American ones, and when you're talking about somebody running the presidential campaign of the eventual winning candidate, the concern starts to make a lot of sense.
Manafort has vigorously denied any wrongdoing, and has criticized the AP's report that his firm received $1.2 million from a pro-Russian political party, a payment which was first reported on after the discovery of a handwritten ledger discovered in Ukraine. Specifically, the 68-year-old former Trump campaign manager called the report "totally misleading and incorrect."