What Rep. Rodney Davis Said About Hiring Women Had Feminists In An Uproar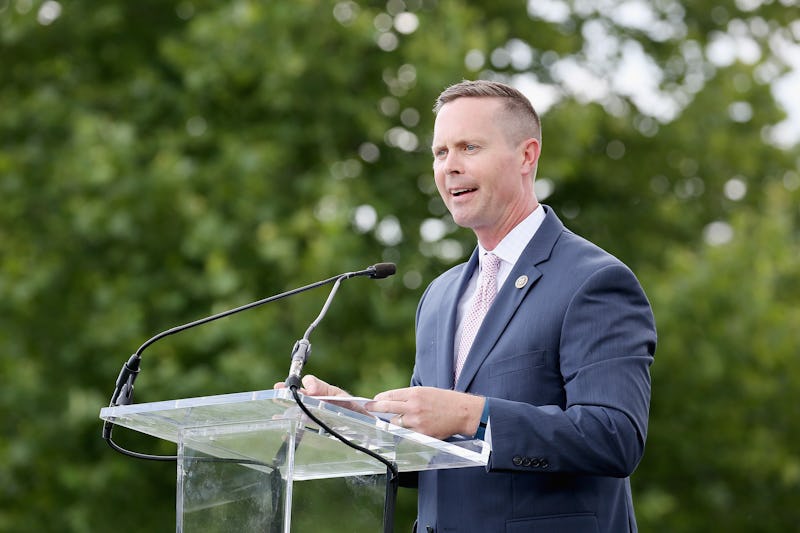 Tasos Katopodis/Getty Images Entertainment/Getty Images
On Tuesday, a Republican representative made a comment about the potential impact of increased awareness of sexual harassment on Capitol Hill, and it stirred up some controversy. During a meeting, Rep. Rodney Davis of Illinois made a comment about a potential shortcut some male members of Congress might take to avoid issues surrounding sexual harassment. Namely, Davis said members of Congress might hire fewer women staffers in response to heightened scrutiny and more rigorous protocols regarding sexual misconduct.
The remark got an immense amount of attention on social media, thanks in no small part to Amanda Terkel, the Washington Bureau Chief for HuffPost. Terkel tweeted about Davis' comment during the hearing, and it very quickly became clear that many progressives and Democrats took Davis' reported remark as an endorsement of that strategy ― thinking that Davis was, in fact, arguing that hiring fewer women as congressional staffers is a natural or acceptable outcome of heightened awareness of sexual harassment.
However, both Terkel and Davis himself disputed this notion, stating that Davis wasn't bringing up the issue to endorse not hiring women, but to voice the concerns of some of his own women staffers. "No one should have to worry about sexual harassment in the workplace," Davis reportedly said. "As a former staffer, I want to serve on this committee to continue to professionalize the House and establish a workplace that is grounded in respect."
Davis also reportedly said, of hiring fewer women staffers: "Obviously that's not the right approach."
They were concerned that an unintended consequence may be that some offices may just take a shortcut and not hire women as a way to avoid these issues. Obviously that's not the right approach.
Whatever you think of Davis for raising the issue ― of male lawmakers potentially trying to avoid any issues of sexual harassment by not hiring women ― it was, at least according to him, a concern raised by female members of his own staff. In recent weeks, there's been a push for sexual harassment and assault to be taken more seriously on Capitol Hill, spearheaded by Democratic senator Kirsten Gillibrand of New York.
Gillibrand, who has made sexual assault and misconduct one of her foremost issues, has proposed legislation to implement some new protocols, including mandatory sexual harassment training for members of Congress. The bill would also abolish a 30-day mediation period the Office of Compliance currently requires for victims of harassment to go through when they want to make a complaint.
Speaker of the House Paul Ryan announced on Tuesday that the House of Representatives will be adopting mandatory sexual harassment prevention training for lawmakers and congressional staff. The move came in response to congressional hearings in which two female lawmakers, Jackie Speier and Barbara Comstock, detailed lewd, harassing, and predatory behavior by an unnamed pair of their male colleagues, one Republican and one Democrat.
Despite the full context of Davis' remark, some of his political opponents pounced on it as it began circulating through social media. As The Belleville News-Democrat noted, two Democrats vying for Davis' seat in 2018 pounced on his remark, with Erik Jones touting his own advocacy for mandatory sexual harassment training in Congress, and Betsy Dirksen Londrigan tweeting that "excluding women from workforce is not an acceptable solution."
Stephanie Schriock, the president of EMILY's List ― a progressive, pro-choice organization dedicated to advancing women and their causes in elected politics, and especially getting women voted into office ― also weighed in on Davis' comment. She went with a combative call for Davis to be unseated in 2018, and replaced with a woman.
"Or we can we elect more women to replace backwards, out-of-touch Republican lawmakers like Congressman Rodney Davis, and hire more women in senior positions," Schriock said in a statement. EMILY's List has reportedly had more than 20,000 women call them about running for office this year, an unparalleled number that speaks to an enormous groundswell of passion and enthusiasm.
As for Davis, it's unclear how he'll fare by the time 2018 rolls around ― back in 2016, the thrice-elected GOP representative won a three-way race between a Democrat and an independent, with 59.7 percent of the vote. In the aftermath of the Democratic romp in the Virginia elections last week, however, the GOP's position ahead of next year's midterms does not look particularly rosy.