"Social Smoking" Isn't Better Than Smoking-Smoking — Here's Why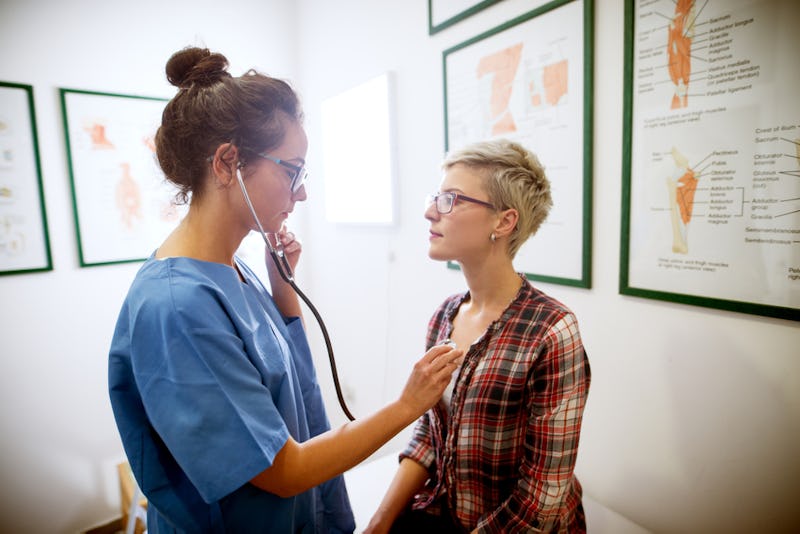 Dusan Petkovic/Shutterstock
The dangers of smoking have been publicized for decades, but people who are "social smokers" — who only smoke at parties, social events, or rare occasions — may believe they aren't subject to the same health dangers as pack-a-day smokers. That couldn't be further from the truth, experts tell Bustle. Social smoking, even if it only occurs on rare occasions, can result in serious health issues, especially for your lungs and heart, and can cause nicotine addiction.
A study of U.S. adults aged 18-24 in 2017 found that 18% identified as social smokers, but doctors say "social smoking" is an imprecise term because it describes a lot of different behaviors, doctors tell Bustle — and that's part of why both modes of smoking are bad for your health.
"'Social smoking' is often used in order to describe an intermittent smoking behavior," Dr. Panagis Galiatsatos, M.D., assistant professor of pulmonary medicine at Johns Hopkins Medicine and spokesperson for the American Lung Association, tells Bustle. "However, this language is usually misleading. For some people, it can be one cigarette, and for others, it can be one to two packs in an outing."
Even for people who smoke very rarely, studies say that incremental lung and heart damage can escalate over time. People who smoke several cigarettes at social occasions might not think of themselves as smokers, but doctors tell Bustle that so-called social smokers aren't immune to the health dangers of smoking, particularly when it comes to lung and cardiovascular health.
Here are five things that social smoking can do to your body.