Here's How Accurate The New 'American Crime Story' Season 2 Trailer Is About The Versace Murder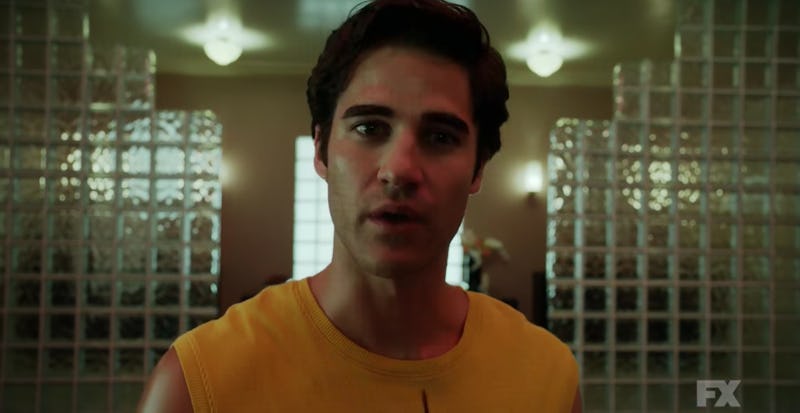 20th Television
For all the true crime fans out there, the latest American Crime Story Season 2 trailer has dropped, and Ryan Murphy and Co.'s telling of the Gianni Versace murder looks so epic that it's easy to question just how trueThe Assassination of Gianni Versace is. Have they exaggerated or changed details of Gianni Versace's grisly murder to up the drama quota? There's definitely a clearer narrative from the trailer than in the real story. The most important takeaway is that, as the FBI put it, Andrew Cunanan embarked on a series of murders in the spring of 1997 "for reasons that remain unclear."
The trailer introduces Cunanan at what looks like a job interview, and, when asked what his best attributes are, the interviewer informs him that, actually, she just wants to know if he's well endowed. This, combined with Cunanan's voiceover claiming "This world has wasted me and yet this world also made you, Mr. Versace, into a star. You're not better than me or the same. The only difference is you got lucky" makes it sound as if the 27-year-old was personally motivated to murder the designer by envy.
This is, of course, a possible theory. Time Magazine's coverage of the murder claimed that there was a possibility that Cunanan and Versace knew each other. They may have met in the early 1990s, "when both were in San Francisco." Time reports an acquaintance of the murderer, Erik Gruenwald, as having heard directly from Cunanan in a club that he'd just met Versace. This is backed up by Vanity Fair's report from the time, which also claims that Cunanan and Versace met at Colossus Club, when the designer was living in the city to work making costumes for the San Francisco Opera.
However, there appears to be little evidence that the serial killer was motivated by envy of Versace's professional standing. Time claimed, "A friend of Cunanan's has told FBI agents that Cunanan had a crush on someone in Versace's entourage, perhaps a boyfriend. They suspect jealousy might have set off his next violent explosion."
More often reported — and points which are absent from the trailer — are a few other totally different motivations. Vanity Fair cited Gregg McCrary, a "senior consultant of the Threat Assessment Group and former supervisory special agent of the F.B.I.'s Behavioral Sciences Unit" as arguing that one of the motivations could have been the murderer's long-term passion for sexual sadism. He stated that when sexual sadists who are also "offenders":
"...reach their late 20s and early 30s, they've developed their sadistic fantasies. They're really vibrant at this point, and they need to act out these things, and they can't find people to go along with them. So now they find an unwilling victim to abduct, rape, or murder."
However, the same Time article cited another totally different inspiration for the murder — the fact that Cunanan may have believed himself to be HIV positive. Mike Dudley, an AIDS counselor, told the magazine that, half a year prior to Versace's murder, the killer had asked him several questions about AIDS — which might also explain why he ended up killing himself after the murders.
According to ABC 7 Chicago, Cunanan's murders were motivated by revenge: they claim he thought he had AIDS in 1997 despite not being tested and quoted the killer's friends as claiming Cunanan had said to them, "If I had AIDS or if someone did that to me I would go on a five-state killing spree and take everyone with me I could." According to The New York Daily News, in journalist Maureen Orth's Vulgar Favors: The Assassination of Gianni Versace, she claims that she learned from Miami Detective Paul Scrimshaw, who reviewed Versace's autopsy, that the designer had suffered from AIDS.
However, Darren Criss' portrayal of Cunanan in the series looks more similar to the man who was reported on. The killer's most remarked on quality was his social competence and self-confidence. The Chicago Tribune quotes Nicole Ramirez Murray, a writer for The Gay and Lesbian Times in San Diego where the murderer once lived, as having described the killer as having "knowledge of current affairs" and as having been "very articulate and impressive." This seems pretty similar to Criss' mostly smooth, self-assured portrayal of the 27-year-old. His method of killing one of the victims shown in the trailer — wrapping a man's face with duct tape — is also true to life, with inquirer.net reporting that Cunanan murdered Lee Miglin, a real estate tycoon after binding the "victim's face, arms and legs" with duct tape.
And the scene in which another man accuses the killer of being unable to stop lying also recalls one of the murderer's most famous traits. According to The Chicago Tribune, when the killer visited San Francisco, he:
"...invented a wildly fanciful resume: His family owned land in New Jersey and he graduated from Choate, a swank Connecticut prep school; his parents were Philippine plantation owners forced to flee when dictator Ferdinand Marcos, their friend, was ousted from power."
In short, while the motivation for the murders may have been radically different to those that may be explored in the upcoming series, the depiction of the killer himself seems spot on. So don't watch American Crime Story Season 2 to find out why Cunanan was prompted to kill Versace; watch it to understand a murderer who was all too charming on the surface.