What The 'RHOBH' Season 8 Cast Should Look Like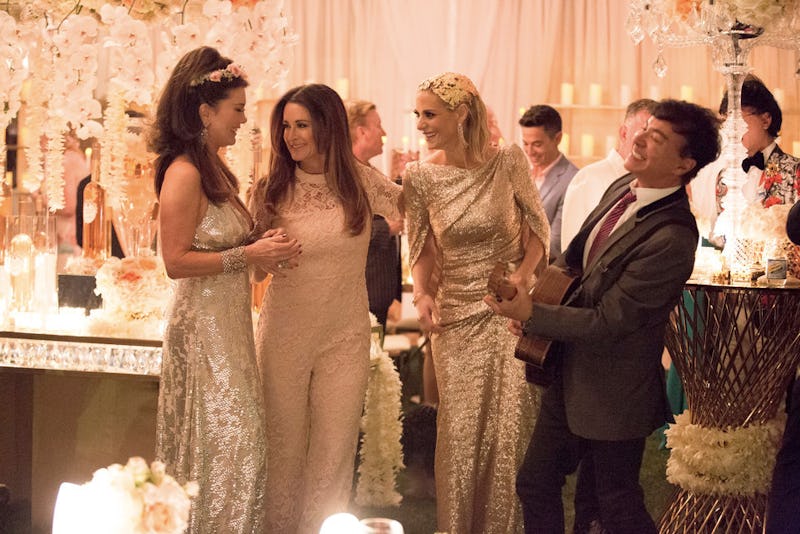 Isabella Vosmikova/Bravo
I maintain my stance that Season 6 of Real Housewives of Beverly Hills was the show's worst ever, so by default I think this current season is infinitely better. Still, I think there are some changes that could be made to made the next one shine even more. If I was calling the shots, I know who I would want to return for Real Housewives of Beverly Hills Season 8.
I think the show has some solid cast members to build around from Season 7, but I still want to make some adjustments. I think that some of the current full-time ladies need to take a step back and become part-time cast members. And there are few women from the past who have popped up here and there during Season 7 as Friends of the Housewives, who need to come back and reclaim their thrones as the original queens of RHOBH.
Here is what I think should happen when it comes to the cast of Season 8. I'm a Real Housewives super fan, and I feel like I have a good grasp on who the fandom wants to see on TV next year. Can you hear me, Andy Cohen?
Lisa Vanderpump — Housewife
Duh. This was pretty much a given. Lisa Vanderpump is the indisputable queen of RHOBH. She has been around since the beginning, is filthy rich, dishes out hilarious one-liners, and manages to bring some substance to the show with her philanthropic efforts. LVP brings it in every category and we need her to anchor this show.
Kyle Richards — Housewife
As the other remaining original cast member, Kyle has more than earned her spot. Not only that, but she is really the glue that holds this cast together. Out of everyone on the show, she is the only one who has an extensive relationship with every cast member. Kyle's presence adds an authenticity to RHOBH that is missing in other reality shows with forced groups of "friends."
Erika Girardi — Housewife
Erika Girardi and her alter ego, Erika Jayne, brought new life into this show. She has a level of composure and wealth that us mere mortals can only imagine. She says insanely hilarious things and wears the most outrageous outfits. Plus, she gives us the comic relief that we desperately need when the story lines get heavy.
Dorit Kemsley — Housewife
Dorit Kemsley has been extremely polarizing during her first season as a Housewife, but the fact that she doesn't get along with Erika, Eileen Davidson, and Lisa Rinna secures her spot. And the fact that she's a loyal LVP soldier doesn't hurt. I also need more time decipher her accent, and I could use some more not-so-humble brags about living with Boy George. Oh, and her outfits are amazing.
Camille Grammer — Housewife
I live for it every time Camille Grammer makes a cameo appearance. She has valuable commentary and she is an original cast member. We all miss Camille and I'm tired of feeling teased by her appearances. We need Camille back on a full-time basis.
Kim Richards — Housewife
Most of this season was about Kim Richards and she wasn't even a cast member. She needs to come back so she can share her opinions and control her own narrative. Furthermore, Kim really does say the darnedest things. We need her back to add some comedy to the show.
Brandi Glanville — Housewife
I know that most of the cast isn't on good terms with Brandi, but she is close friends with Kim, so if Kim returns, it would be great to see her and Brandi hanging out and causing controversy. Love her or hate her, you have to admit that Brandi always brought a high level of entertainment.
Lisa Rinna — Friend Of The Housewives
I have been beyond annoyed with Lisa Rinna this season, but she does provide some controversy. I want her back on the show, but I think she should be demoted to a "Friend of the Housewives." She has no interesting story line on her own. None of her business ventures make for great reality TV and her family just seems way too normal for this whole thing. Still, I could use her arguments with the rest of the cast next year.
Eileen Davidson — Friend Of The Housewives
Eileen is a nice lady, but she really has no story line of her own. And I don't even say that in a mean way. I just think that she is way too nice for this reality show life. She does serve as a voice of reason here and there and I can't help cracking up every time she fans out over Erika Jayne, so I want her to return as a "Friend of the Housewives," too.
After a rough (and extremely repetitive) Season 6, I feel like Real Housewives of Beverly Hills is this close to reclaiming its former glory. If my suggestions are taken into account, I feel like Season 8 has the potential to be Season 1 level of iconic.