What The Latest Travel Ban Decision Really Means For Immigrants & Refugees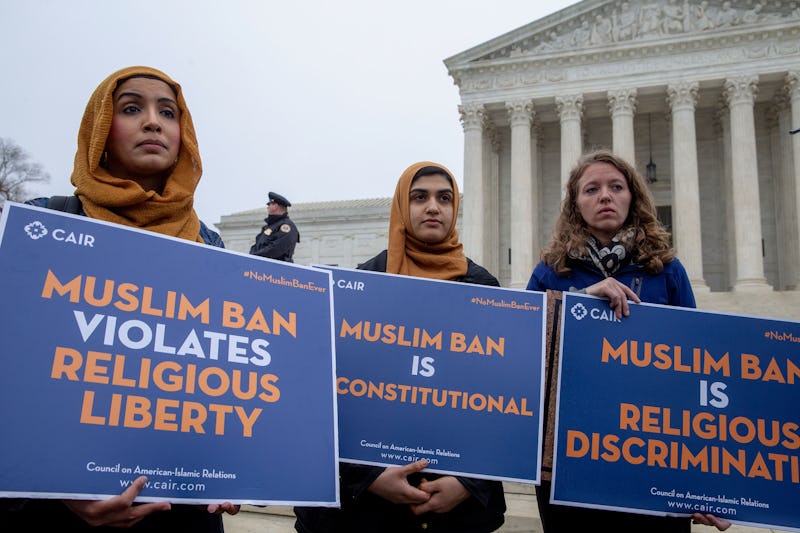 Tasos Katopodis/Getty Images Entertainment/Getty Images
In a blow to immigrant rights advocates, on Tuesday morning the Supreme Court upheld the third iteration of President Trump's executive order to stop members of seven countries — five of which are Muslim majority — from entering the country. It's viewed by many as another demonstration of the Trump administration's agenda to limit legal immigration, but for immigrants, the travel ban decision means an impossible situation for them and their families.
The decision, which was made in a 5-4 vote, allows a range of travel visa restrictions on Iran, Libya, Somalia, Syria, Yemen, North Korea, and Venezuela. The case was initially brought forth against the Trump administration by the state of Hawaii, which claimed that the ban was beyond the scope of the president's power and motivated by anti-Muslim discrimination. It cited instances where he had expressed such sentiment, like a 2015 campaign speech in which Trump called for a "total and complete shutdown" of Muslim visitors.
While the decision does not actually change anything today, it "says loudly and clearly that the president of the United States has the complete authority to control immigration," Rosanna Berardi, an immigration lawyer in Buffalo, New York, tells Bustle.
In the conservative majority opinion, Chief Justice John Roberts stated that the decision did not take statements of religious discrimination into consideration, but was solely focused on the limits of presidential power. "The Proclamation is squarely within the scope of Presidential authority," he wrote.
Who Does This Affect?
According to Berardi, restrictions on travel visas do not affect refugees coming to the United States for asylum, but they do pose a serious roadblock for potential immigrants, immigrant families, students, and others seeking to move to — or even just visit — the country.
Brittney Rezaei, an immigrants' rights attorney at the Council on American-Islamic Relations (CAIR) said her organization is in the process of helping multiple families who have members stranded in one of the banned countries, and are unable to obtain visas to the United States in order to be reunited.
"CAIR is incredibly disappointed. This continues a legacy of bad decisions," Rezaei says, referencing the Court's decisions to uphold slavery in the 1800s and the internment of Japanese-Americans during World War II. "Today's court decision attacks Muslim communities and opens the door to court-sanctioned discrimination of other ethnic and religious groups."
Esther Sung, a staff attorney at the National Immigration Law Center says others, who had obtained travel visas before the ban was in place, are now stuck in banned countries with volatile political climates, such as Yemen and Syria. "People trying to leave dangerous countries are stranded," she says.
What Are Their Options?
Under the travel ban, there is a waiver process where people in banned countries can apply for visas, but the system is ineffective, according to Rezaei. "The waiver process is a sham," she says. She explains that the government has provided very little information about the process, and consulates will hold applicants in limbo. For some countries, like Yemen and Iran, there aren't even American Consulates in the country, so waiver applicants must travel to a neighboring state to apply.
State Department data shows that in the first two months of the travel ban only two waivers were granted, out of more than 8,000 applications. Sung says numbers picked up after that, but still remained relatively low.
Christopher Richardson, a former State Department official reported to Slate that "regardless of the instructions that we had 'discretion to grant the waiver,' we were not allowed to exercise that discretion." Bustle has reached out to the State Department for comment.
"My understanding was no one is to be eligible to apply," he added.
Going Forward
The current policy will be in effect indefinitely, unless Congress passes a bill against it, the Court overturns its decision, or the president changes his mind.
Advocates fear that this decision will encourage President Trump to place more restrictions on legal immigration, and potentially worsen the current immigration crisis on the southern border. "The court's judgement is a deep vindication for President Trump and shows that the string of lower court cases ruling against the immigration executive orders were a kind of judicial mass hysteria," says Eugene Kontorovich, a professor of constitutional law at Northwestern University.
And the momentum this decision might give to the Trump agenda is dangerous, argues Sung. "The decision today essentially endorses President Trump's anti-Muslim animus."
"The pain is in individual households," she says. "The effects are harder to see, which makes them insidious - but that doesn't make the harm less real."