This New Family Drama Will Hit Home For Anyone Touched By Alzheimer's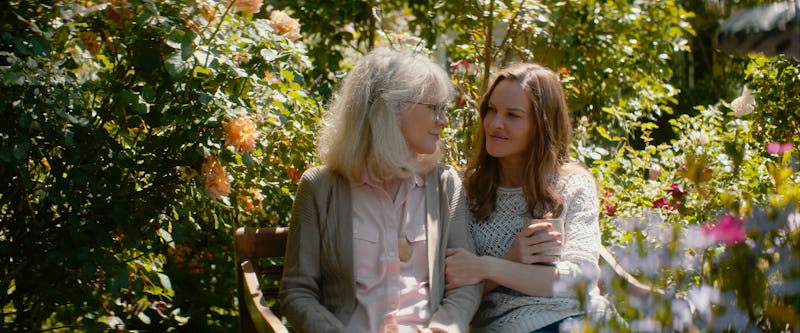 Bleecker Street
The new film What They Had will hit home for anyone who has been touched by Alzheimer's. And not just the pain part of it, but the laugh-through-the-pain part, too. The slowness and the quickness. The part where your loved one holds a stapler up to their head instead of a cordless phone and everyone cracks up. Well, at least that's how What They Had, which is based on the true story of director-writer Elizabeth Chomko's family, shows one aspect of it.
"I would say it's definitely a fictionalized account, a dramatized account of what I observed in my family and other families that were going through similar experiences," Chomko says ahead of the film's Oct. 19 release.
What They Had focuses on a woman, Bridget (Hilary Swank), who returns to her hometown of Chicago with her college-aged daughter Emma (Taissa Farmiga) when her mother Ruth's (Blythe Danner) Alzheimer's has gotten to the point where putting her in an assisted living facility is being considered. The main issue? Bridget's brother, Nick (Michael Shannon) is pushing for assisted living, but the siblings' father, Burt (Robert Forster), is completely against it.
It's a complicated situation, but it's one that families have to deal with everyday. "After having seen so many people respond to this script and to the film, it feels like I sort of stepped into something that it feels like a lot of families are coping with and don't really have a name for," Chomko says, "trying to care give for their elders, and parent their parents, and trying to navigate as gracefully as possible this really challenging part of life."
The first-time director's own grandmother was diagnosed with Alzheimer's when she was 68 and Chomko was around 21. None of the characters in the movie "are" Chomko — she identifies with "a piece of all of them" — but she says she "was working out something most personal" with Bridget and Nick. Then there's the character Emma, who is around the age Chomko was when her grandmother was diagnosed. Chomko says that she thought about how she was as a kid and talked to her siblings and to friends about the story, but also got some great insight from Farmiga on the part of Emma once they started working together. Overall, she says, "I really wanted to capture my grandparents, their marriage and the characters that they were, and Chicago, where I grew up, and just make a love poem to that. The rest sort of over the course of many many rewrites developed into a more fictionalized account."
In the film, all the characters view the situation surrounding Ruth's health very differently, and it was important for Chomko to show "the impact that it had on the full family." For instance, Nick, who lives near his parents in Chicago, is pushing for assisted living, because he sees how hard things are for his parents every day. Meanwhile, Burt wants Ruth to stay at home because she's his partner and that's where she's meant to be. And then Emma, who only sees her grandma now and then, finds the whole thing frustrating and sad. Chomko also didn't want Ruth to be only defined by her Alzheimer's: "I wanted her to be, and the family to be, the same people they always were, struggling with the same things they were always struggling with. In addition, of course, to this new piece."
And while the relationships in the movie and the subject matter are really heavy, there are plenty of light moments, just like there tend to be in the real world. "I grew up in Chicago and we were a family of laughers," Chomko says. "We just were always teasing each other mercilessly, but in the most loving wonderful goodnatured way ... They were very serious Catholics, but not serious about really anything else."
Chomko placed an importance on making the funny moments feel real, and she achieves that tricky balance, in part, by setting up situations in which the family is able to laugh with Ruth. In her real life, she says, "I thought we could lose that lightness of spirit [after her grandmother's diagnosis], because how could anything be funny anymore? If she's there and she can't remember who we are, how do you ever laugh through that? But her disease really surprised me in a number of ways. We really did laugh through it and in some ways we laughed louder and harder, I think in the way you do when you're heart is about to break."
Sadly, Chomko's grandmother passed away earlier this year after a 17-year battle with the disease. While she was still alive when What They Had was made, the director says the film came from a place of grief. "I don't pretend to know anything about how people should live or love or any of that," Chomko says, but she's been pleased with the reaction people have had to the story. "What seems to be the coolest part about it is just people kind of realizing and seeing and starting dialogue and understanding, suddenly, that they're not alone and they're not going through something thats weird or abnormal or dysfunctional," she says. "It's just a piece of life."