Here's When To Buy Kylie Cosmetics Blushes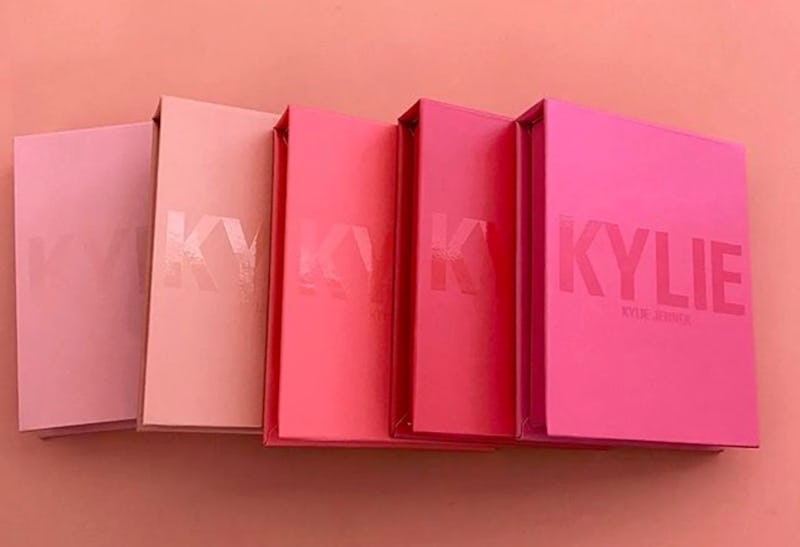 You know that video of the huge chicken? Imagine it running around with its head cut off. Voila! An accurate depiction of the internet's reaction to Kylie Cosmetics's new blush, because despite the controversy over empty Kylighters, the girl's still got it. In an Instagram photo dropped Monday afternoon, the brand let fans know when Kylie Cosmetics blushes will be released — and it's all of four days away.
The five shades of all-new Matte Pressed Powder Blush will be available Friday, March 24 at 3 p.m. PST/6:00 PM EST. Coming in a mauve pink, dusky peach, neon pink, dark raspberry and cool fuchsia, Jenner and co. are still holding onto swatches of the stock. Will they be one-to-ones of the blushes in her Valentine's Day Kylie's Diary kit? Who can say, but if they are, I'd guess we're looking at the second from left and far right blushes. Then again, Jenner's always been a wildcard.
I don't know if anyone else is getting a "Final Destination" vibe from these releases, but Jenner's truly on the move to map our full face (a sentence creepy from start to finish). Highlighters: Tackled. Blush: Handled. Unless Jenner goes for contour or bronzer products, I'd guess we're looking at an eye release coming next.
Maybe a Kylie Cosmetics mascara? Hopefully, given that she has doe eyes on lock. Brow pomade? Self tanner? Car wax? All would be on glorious brand.
KYLIE'S DIARY | KYSHADOW + BLUSH PALETTE, KylieCosmetics.com
The blushes' packaging is highly similar to the Kylighter cases, but here's hoping they don't stir up more trouble for fans and the brand.
As per Jenner's ways, no doubt pricing and swatches are soon to come — she knows what the people want. Although truly, that would probably be an internet bandwidth large enough to make an easy purchase. Dream a dream. Until then, think pink (and achievable goals).