Be Ready To Shop Kylie's Velvet Lip Kit, ASAP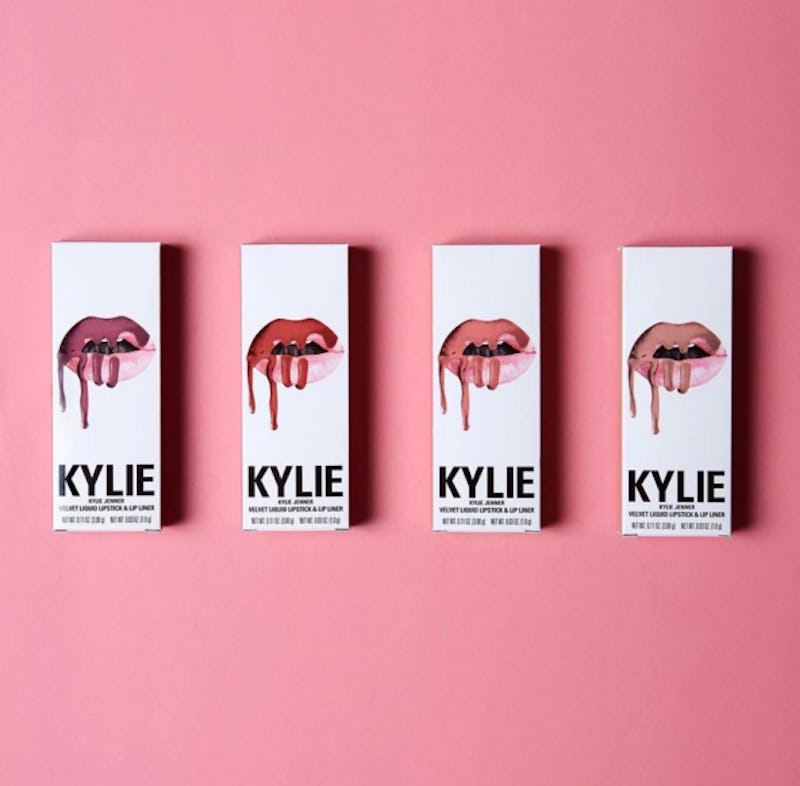 kyliecosmetics/Instagram
Kylie Jenner is the queen of Internet hype, but she's approaching her latest launch a little differently. Instead of spending weeks giving hints and teasing her upcoming products, she decided to surprise us all and announce a drop that's approaching quickly. What time do Kylie Cosmetics' Velvet Lip Kits come out? There's not much longer to wait now!
According to the brand's social media, you can expect to see an all-new formula hitting the Kylie Cosmetics website at exactly 6 p.m. ET/3p.m. PT on Mar. 16. So, if you act quickly, there's a chance you could get lucky a little before St. Patrick's Day even arrives by adding one (or all) of these lippies to your cart.
This new velvet version is supposed to be for anyone who's not crazy about a matte pucker, according to Jenner's Snapchat. It's creamy and smooth, but doesn't stay as shiny as a gloss would. So, if you're into the idea of long-wearing color that won't dry your lips out — this is the Kylie Cosmetics product for you! Jenner's starting the line with four neural/pink tones. Between the color and the finish it's safe to say these products will be super wearable. Get ready to slick them across your pout as soon as they're available!
Introducing: the latest to come from Kylie Cosmetics.
Jenner's original Lip Kits were a big deal, so it makes sense that now that her company's growing, she's ready to expand the range. Be ready to shop these the second they go live. If they're anywhere near as popular as the matte version, they're going to go quickly!
From left to right: Charm, Harmony, Dazzle and Rosie. These hues couldn't be more pretty. They're going to upgrade your spring beauty in a major way.
Of course, you can expect the same packaging you know and love.
But, this time, they're also coming with a lovely little velvet bow!
Last, but certainly not least, we've got to talk about this butter-y smooth application. If they really apply as perfectly as they seem to, then I'm officially head over heels for these lippies.
Can we all take a minute to rejoice for these new Lip Kits? Jenner's stolen our hearts, yet again!