If You Have Plans After The Super Bowl, Here's When The Game Might End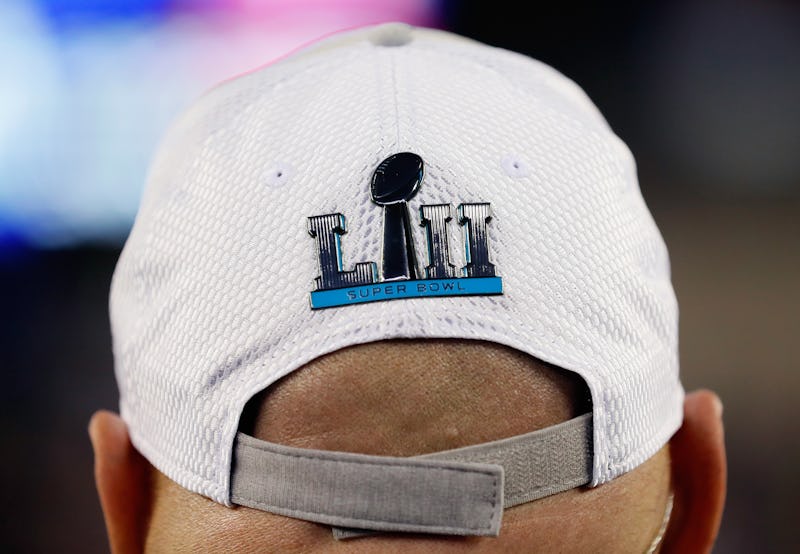 Kevin C. Cox/Getty Images Sport/Getty Images
On Sunday, February 4, the New England Patriots and the Philadelphia Eagles face off at U.S. Bank Stadium in Minneapolis, vying to win the NFL championship and hoist the Vince Lombardi trophy. It's a major event in American culture, even though not everyone's a football fan. If you've got somewhere to be after the game, there might be a nagging question on your mind: when does the Super Bowl end?
After all, everyone is so fixated on when the game starts, with millions upon millions expected to tune in. But if it's worth knowing when the game begins, it's also worth knowing when it figures to be wrapped up. The tricky part, however, is that pinning down the start time is a lot easier than knowing when the whole thing will be over.
That's because while football has a set time limit, unlike baseball, the actual length of the game can ebb and flow based on how frequently the clock is stopped, whether for timeouts, injuries, or following incomplete passes. Also, the Super Bowl halftime show adds to the total length of the broadcast, and perhaps most unpredictably, if the two teams are tied at the end of regulation, they'll have to play overtime.
As such, the closest you can come to nailing the time the game will end is to look at the average lengths of other recent Super Bowls. The big game begins at 6:30 p.m. ET, and typically runs somewhere between three and a half hours to four hours, placing its end time at around 10:00 to 10:30 p.m. ET. The average length of a Super Bowl, according to The Verge, clocks in at three hours and 44 minutes.
A notable exception was the 2013 Super Bowl between the Baltimore Ravens and San Francisco 49ers, which was delayed more than 30 minutes due to a blackout, and thus ended up lasting more than four hours. There had never been an overtime game in the history of the Super Bowl until last year's face-off between the Patriots and Atlanta Falcons, in which the Patriot prevailed in OT, 34 to 28.
It's also worth noting that as long as the total broadcast runs, the amount of time you'll spend actually watching football players do football things is shockingly brief. Back in 2015, Marketwatch found that just 12 minutes and six seconds of Super Bowl XLIX featured actual gameplay, with the rest of time burned up by commercials, the halftime show, replays and the clock running prior to each team snapping the ball.
In short, if you're trying to figure out how long you or your friends or loved ones will be parked in front of the TV on Sunday evening, your best bet is to do the math based off of that three hour and 44 minute average. That would work out to 10:14 p.m. ET, or if you're a west coaster, 7:14 p.m. PT.
If you're lucky enough to live in a city or town with late-night dining, that might give you enough time to grab a bite to eat afterwards. Although if you live in either Philadelphia or Boston, you might want to consider how all the celebrating or anguished fans could get in your way.
Of course, it's important to remember that this is an imprecise science, so if you have anything really important lined up around 10:00 p.m. you might want to keep a close eye on the score, the clock, and use your own best judgment about went to duck out of the festivities. If the game ends up being a blowout, after all, maybe you won't need to hang around for the whole thing.