The Super Bowl Should End At A Good Time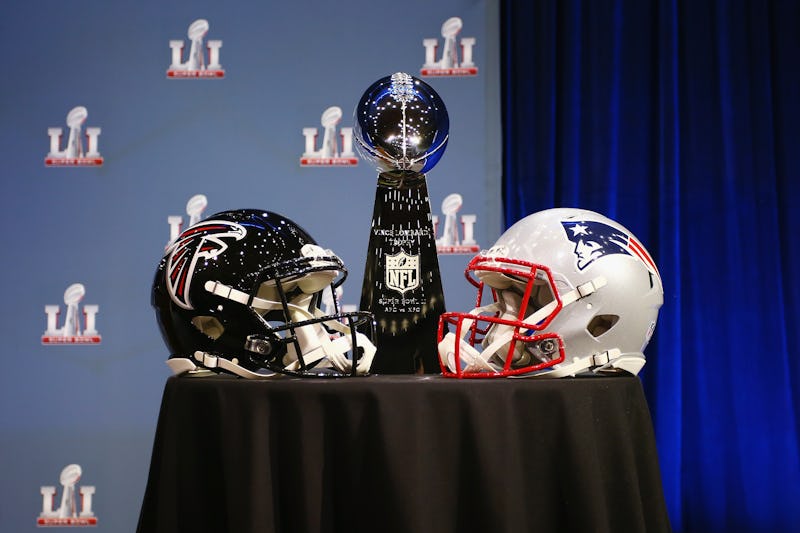 Tim Bradbury/Getty Images Sport/Getty Images
The biggest football game of the year is this Sunday, projected to attract close to 115 million viewers around the world. If you're tuning in for the game but maybe don't want to be up too late, don't worry. The Super Bowl should end by 10 p.m. ET, leaving you plenty of time to postmortem the game with your friends after and still get to bed on time.
According to TV Guide, the game is scheduled to end at 10 p.m. ET, followed by a post-game show from 10 p.m. to 10:30 p.m.. Kickoff is at 6:40 p.m. ET, and the game itself should last about an hour and a half to two hours. In the meantime, the commercials and halftime show provide a good break for the less intense sports fans and pop culture enthusiasts.
This is assuming that the game doesn't go into overtime due to a tied score at the end of regulation play, but that's a pretty likely bet based on precedent and the circumstances of this particular matchup. In Super Bowl history, no game has ever gone into overtime. The average margin of victory in a Super Bowl is 14.2 points, generally meaning there's no need for additional play time.
More specifically to this year's game, the Patriots are expected to blow out to the Falcons due to their superior defense Both teams are great offensively — the Falcons lead the NFL this year in points per play — which will hopefully make for a high scoring and more exciting game. However, the Falcons are notably lacking in SB experience, and Tom Brady's previous leadership of the Patriots to Lombardi silver could be an insurmountable obstacle to the Falcons first championship title. Even if the game does go into overtime, the NFL's rules only allow one, 15 minute, sudden death overtime period, so the game usually ends pretty quickly after that point.
The one true element of unpredictability in the Super Bowl is usually the halftime show, but this year's headliner Lady Gaga has promised that the performance will be pretty tame, or at least her definition of tame. Her entire career has been something of a political statement, and Gaga says she's stay true to that spirit, but there won't be anything quite as shocking as one might expect in the first Trump era Super Bowl. Hopefully nothing like Super Bowl XXXVIII, the last time Houston hosted the game, will happen Sunday night. If there are any wardrobe malfunctions, you'll probably want to stay up a little later to freak out about it.