The White House Correspondents' Dinner Traditionally Goes Late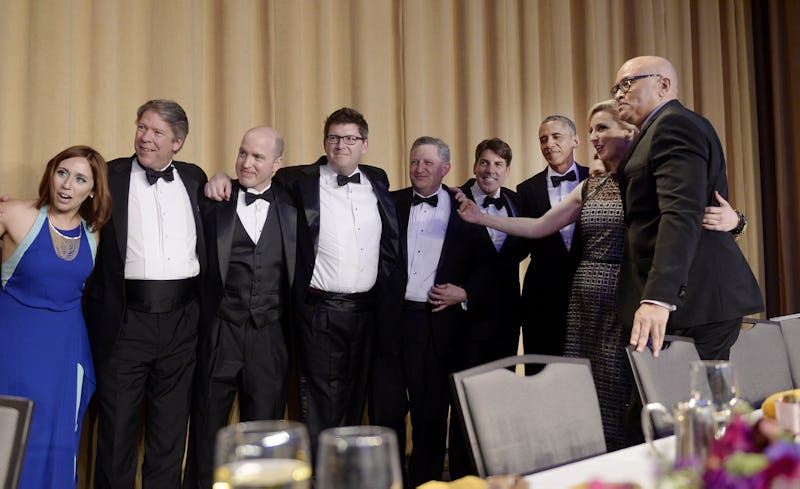 Pool/Getty Images News/Getty Images
The show must go on — but can it? Even though President Donald Trump has decided to skip the annual White House Correspondents' Dinner, the fundraiser for journalism scholarships will still take place. Usually presidents attend the event and speak as journalists, celebrities, and government officials hobnob in style. This year, however, Trump will not be going, and will be holding a competing event instead. So what time will the White House Correspondents' Dinner end? It depends on who can attend in the end.
Last year was former President Obama's final hurrah, or mic-drop if you will. If you check out the C-SPAN coverage of the event, the red carpet opened as early as 6 p.m. EST and the opening ceremonies began at about 8:20 p.m. All in all, the event ended quite late with the president's speeches and Larry Wilmore's standup bringing down the house. President Obama and first lady Michelle were then escorted off the stage at 11 p.m. EST sharp by the head of the association. After that, you can see the attendees starting to leave the venue at that point and chatting with each other for the next 20 minutes or so before C-SPAN ends its coverage.
So that may be a good estimate for years past: 11 p.m. EST. But this is far from a normal year. Trump announced back in February that he would not be attending via a tweet. But only on Saturday did he explain what he would be doing instead. Given that it's the 100th day of his presidency, he will be going to Harrisburg, Pennsylvania to hold a rally at the Pennsylvania Farm Show Complex.
The really complicated thing is that the correspondents who would normally be at the dinner are tasked with covering Trump and therefore should also be in Harrisburg. "Next Saturday night I will be holding a BIG rally in Pennsylvania. Look forward to it!" Trump tweeted in the announcement of the event.
Despite this unfortunate turn of events for the White House Correspondents' Association (and the general relationship between Trump and the press, who he has tried to demonize), the show will still happen. Jeff Mason, the group's president and a reporter for Reuters, told The New York Times that the show must go on:
We will be celebrating the First Amendment at the White House Correspondents' Dinner next week, and we look forward to doing just that.
Who would have thought journalists attending a black-tie fundraiser could someday be seen as an act of resistance? That just goes to show how abnormal the Trump Administration is.