Fox Will Host Trump's Pre-Super Bowl Interview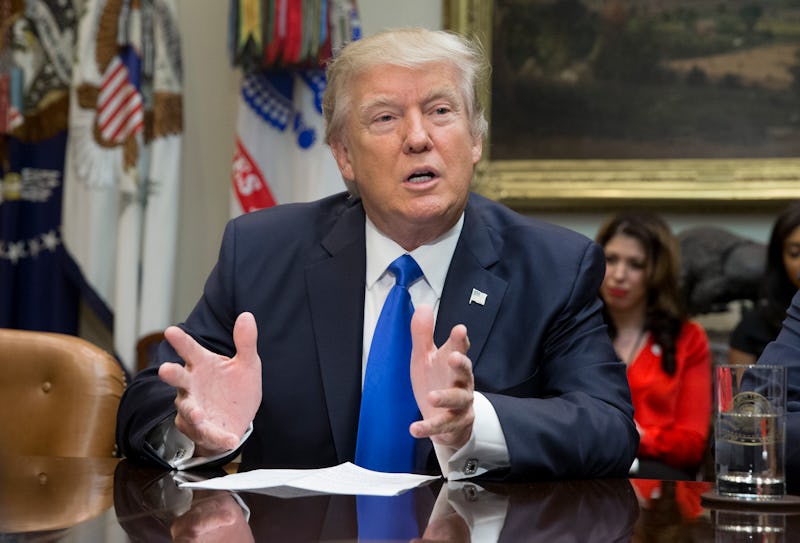 Pool/Getty Images News/Getty Images
As Americans prepare for the Super Bowl, readying bags and bowls of potato chips, dips, and Chex Mix, preparing plates of hot wings, carrot sticks, and potato skins, many might be wondering: where's the President? After all, what better complements beer and football than a sit-down tete-a-tete with the leader of the free world? For Fox News, the answer is nothing. And so, not for the first time, Fox host Bill O'Reilly will use the hours before kickoff to talk with the POTUS. The interview will be filmed a few hours before, and air at 4 p.m. ET.
Believe it or not, this will mark the third such interview for the longtime host of the titular O'Reilly Factor. In 2011 and 2014, Bill O'Reilly interviewed President Obama during roughly the same pre-Super Bowl time slot. His exchange in 2014 was especially hyped, given it came roughly one year after Mitt Romney lost the presidential election. Plenty of Fox viewers were prepared for a certain type of interview, the sort that looks more like a verbal throw-down than respectful dialogue. And while O'Reilly didn't exactly play the role of fair and balanced questioner, many right-wing watchers were left disappointed that he didn't bring more rock 'em/sock 'em style to the event.
Liberal viewers were similarly upset by the interview. Many took particular offense at the regularity of O'Reilly's interruptions, calling him rude and obnoxious. In his first 2011 interview with Obama, O'Reilly interrupted Obama a total of 48 times.
It's doubtful the Fox News host will be anywhere near as aggressive with Trump, given the friendly tone established between the conservative news outlet and the new president. Trump was a regular guest on Fox during the primaries and general election, garnering far more interviews and coverage than any of the other candidates, Republican or Democrat.
O'Reilly has also been a vocal defender of Trump. After the Republican candidate opened a debate by referencing the size of his nether regions, O'Reilly said that it was not his "style," but everyone should basically calm down and stop being so snobby. It doesn't hurt, of course, that the two are longtime friends.
Given their close relationship and ideological affinity on many issues, it would be quite the shock if O'Reilly interrupted Trump even a fraction of the times he was willing to cut off Obama. But for all those out there who can't get enough of a little presidential politics on game day (Tom Brady, looking at you), Fox News has you covered.