James Comey's Testimony Could Threaten Trump's Presidency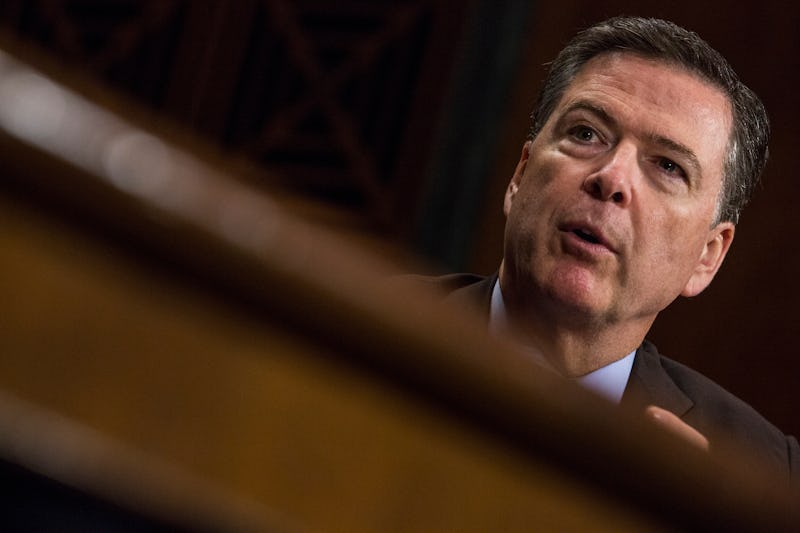 Zach Gibson/Getty Images News/Getty Images
On Thursday, June 8, former FBI director James Comey will testify before the Senate Intelligence Committee, addressing reports that President Trump tried to pressure him to drop the investigation into former national security adviser Mike Flynn. Set to be one of the most high-profile moments in recent Washington, D.C. history, details of the hearing, like what time Comey will testify, are readily available, since the schedule is all hammered out.
The Comey hearing has been hotly anticipated since his Trump fired him on May 9, and it'll be his third appearance before a congressional committee this year. It's scheduled to begin at 10:00 a.m. ET, which means 7:00 a.m. PT for all you folks on the west coast ― a little earlier than you might want to get up, but if you've been awaiting it with bated breath, it probably won't be too hard to motivate yourself.
The hearing will be carried across the major news networks ― CBS, ABC, and NBC will all be covering it, as well as C-SPAN, and online streaming will definitely be an option on these networks' social media pages. If you're looking for a particularly quick and easy solution, PBS News Hour will be streaming the whole thing on YouTube.
There's a wide range of possibilities as far as how significant Comey's testimony will ultimately be on the investigation. Based on his two hearing appearances this year, it's always a good idea to expect a reserved and tight-lipped Comey. However, reports in the past weeks suggesting the existence of memos that Comey compiled immediately following his various meetings with the president could reveal information pertinent to the FBI investigation.
Several news outlets reported that the memos Comey wrote were regarding Trump pressing for the Flynn investigation to be halted, and persuading him pledge his loyalty to the president. Needless to say, Comey confirming the existence of such memos, turning them over to the committee, or going into any depth describing these encounters, could pose serious risks to Trump's presidency. Especially considering the president openly admitted to NBC's Lester Holt, during a nationally televised interview, that he was thinking about the Russia investigation when he decided to fire Comey.
But there's no way to know just yet whether reports of the memos are accurate, or whether Comey will feel at liberty to discuss their contents in-depth. He reportedly spoke with independent counsel Robert Mueller in advance of the testimony, and part of that was likely to make sure his testimony wouldn't conflict with the ongoing investigation. It's an open question as to just how far Comey will go in revealing things that could cause damage for Trump, although the potential peril for the president is quite clear at this point.