The Puppy Bowl Is Not To Be Missed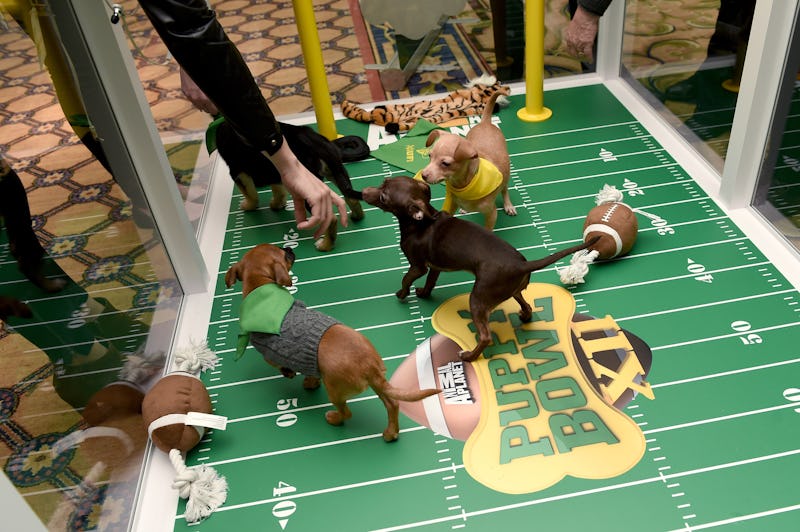 Amanda Edwards/Getty Images Entertainment/Getty Images
On Sunday, Feb. 5, two teams will square off for the nation's most coveted prize. No, I'm not talking about the Super Bowl — I'm talking about Animal Planet's Puppy Bowl XIII, where two teams of rescue pups battle (well, more like frolic) it out on the field to support animal adoption. But, don't worry, all Puppy Bowl players are winners who leave the green and go onto forever homes. With the Puppy Bowl airing on Super Bowl Sunday, though, football and dog fans might think they have to struggle to catch both games, but fear not: for those asking what time the Puppy Bowl is out of worry that it'll conflict, know that you'll be able to see both major events.
Fans of both man's best friend and football can rest easy, as the Puppy Bowl airs before the Super Bowl kickoff at 3 p.m. EST on Sunday. While all of the pups are winners, the Animal Planet trailer teases that this year, just one team, Team Ruff or Team Fluff, will win the "Lombarky" trophy — AKA a giant plush fire hydrant with a stuffed football atop.
The trophy may be a new twist, but there are a few things longtime Puppy Bowl fans can depend on. Here are some of things viewers know they can look forward to every year at the Puppy Bowl.