When To Tune Into The 2018 Kentucky Derby Race So You Don't Miss A Second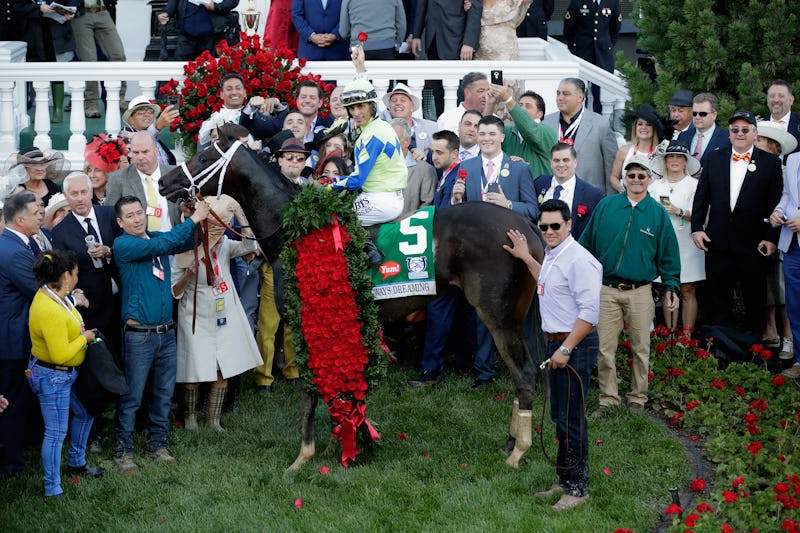 Andy Lyons/Getty Images Sport/Getty Images
If you're a fan of horse racing, or simply all the spectacle and pageantry that comes with the biggest one of the year, then you might be wondering: What time is the 2018 Kentucky Derby race? And if so, you're in luck, because that's a very simple question with a very simple answer.
Saturday, May 5 will mark the running of the 144th Kentucky Derby. According to CBS News, the post time for the race is 6:34 p.m. ET, although it isn't actually scheduled to begin until 6:46 p.m. ET. That said, however, if you've been waiting all year for this thing, you should probably make a point to be parked in front of your TV or streaming device well in advance of those times to be absolutely sure you won't miss it. After all, the average length of the Kentucky Derby is right in the neighborhood of two minutes.
It's a reminder of just how much time, as well as energy, is spent each year in the hopes of finding success in such an incredibly short window of time. For a sense of perspective, a 365-day year contains 525,600 minutes. That means the Derby, which top-level horse owners and trainers keep in mind on a constant basis, accounts for approximately 0.00038 percent of the year.
This is all an elaborate way of saying that if you're excited at the thought of seeing the Derby, don't take any chances, and maybe start watching even a few minutes before it's slated to begin ― how about 6:30 p.m. ET, a nice, round number? If you're wondering how to watch, it'll be broadcast by NBC, and will also be available to stream through the NBC Sports app.
Last year, the Derby was won by Always Dreaming, a colt trained by Todd Pletcher, who also trained 2010 Derby winner Super Saver. He was jockeyed by John Velazquez and scampered across the finish line ahead of the field.
This time around, there will be a new crop of horses competing to win racing's most storied event. The favorites include Justify, Mendelssohn, and Magnum Moon, although needless to say, you can never know for a certain who's going to make it to the winner's circle until it's all over and done with.
The race, like every year, will be taking place at the historic Churchill Downs track in Louisville, Kentucky. The Kentucky Derby is just the first leg of a three-race set known in horse racing as the Triple Crown, followed by the Belmont Stakes and the Preakness. If a single horse wins all three, that horse is declared the Triple Crown winner ― only 12 horses have accomplished this, the most recent being American Pharoah in 2015.
It's not hard to see why it's such a rare feat, occurring less than 10 percent of the years since the Kentucky Derby was first established. Horse racing is a grueling and dangerous sport, and the effort and strain it takes for one horse to win three consecutive races ― sometimes against horses that aren't running for a Triple Crown, and have therefore had much more rest ― is considerable.
The Kentucky Derby is the first leg of the Triple Crown, however, which means you'll be seeing a mostly fresh field of horses, and whoever wins will still have two more events ahead of them. Once again, to make absolutely sure you don't miss it, the post time for the race is 6:34 p.m. ET, but hey ― why not settle in at 6:30 p.m. ET just to be safe?