The Kitten Bowl Is The Purrfect Sunday Show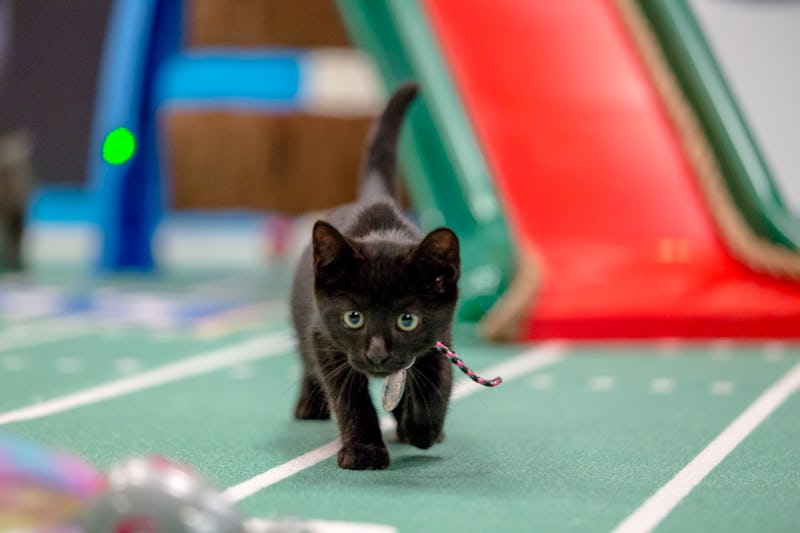 Copyright 2017 Crown Media United States LLC/Photographer: Marc Lemoine
This Sunday doesn't have to be all about football and commercials — it can also be about straight-up adorable baby animals. So, what time is Hallmark's Kitten Bowl on? To go along with Super Bowl LI, this year the Hallmark channel will be airing Kitten Bowl IV. It will be broadcast at 12 p.m. ET on Feb. 5, which coincides nicely with Puppy Bowl XIII (which will be shown at 3 p.m. ET on Animal Planet), and of course the main event itself, the Super Bowl (which will commence at 6:30 p.m. ET). Basically, if you're so inclined, you can watch the various Bowls literally all day long.
Have you tuned in to the Kitten Bowl before? The fun event will be hosted by animal advocate Beth Stern, with support by a whole team of sports pros who really know their stuff, including reporter Mary Carillo, sportscaster John Sterling, and former football player-turned sports commentator Boomer Esianson — though of course, the true stars of the Kitten Bowl are all of the feline variety.
The show is produced in association with North Shore Animal League America, as well as Last Hope Animal Rescue and Rehabilitation, who provide all the kittens for the show — which is great because it means that all the kitties come into the show needing homes, and by the end of the show, they've found them.
All in all, it's quite the fun program, and if you haven't tuned in before, it's well-worth watching. After all, there's a reason why it drew in 4 million viewers last year (which is considerably less than Super Bowl 50, which got 111.9 million views, but it's definitely on the rise) — heck, it inspired an upcoming "Meow Madness" program (complete with a "Final Fur") to coincide with basketball season.
With adorable kitties feinting left and right and going for the touchdown, you'd actually be remiss not watching the show. Honestly, just look at their adorable little faces, and right into their soulful, soulful eyes.
Will you be tuning into Kitten Bowl IV, leading up to Super Bowl LI on Sunday at 12 p.m. ET? Come on, can't you hear all the tiny meows over from the Hallmark channel beckoning you over?