What To Eat At Chipotle If You're Vegan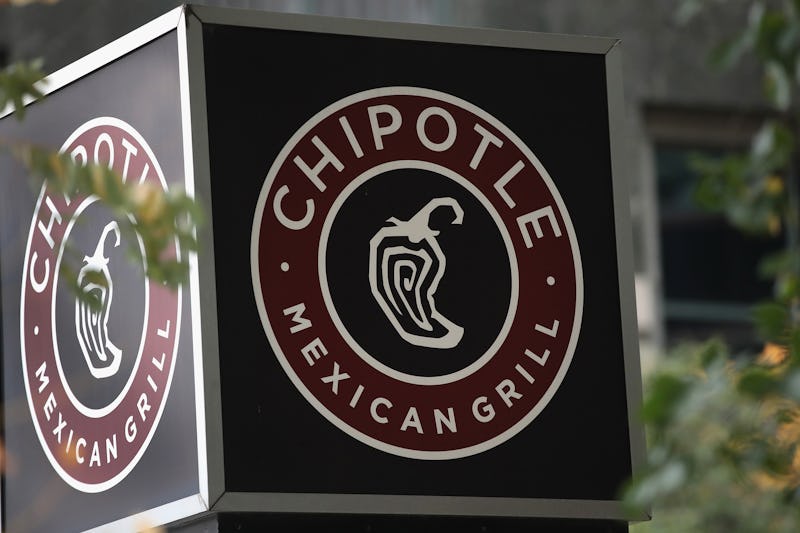 Scott Olson/Getty Images News/Getty Images
One of the most beautiful things about a pick-your-own menu like Chipotle's is having the freedom to say yes and no to what you can or can't have. There's no need to explain to a waiter what to exclude in your meal over and over again when you can easily pick and choose. But, exactly what can you eat at Chipotle if you're vegan?
First, what's important to note is what the differences are in being a vegetarian and being a vegan. Vegetarians avoid eating meat, while vegans avoid any type of product that is produced by an animal — aka, not only do they avoid animal meats, cheese, milk, eggs, and anything else that is an animal byproduct is off limits.
You may be surprised to know that Chipotle is actually a great option for vegans when looking for serious lunch game during the week. This chain has loads of options for people avoiding any products relating to animals, leaving customers feeling satisfied and happy without the worry of consuming anything they shouldn't have. With loads of beans, vegetables, grains, and even tofu options, vegans can walk away having a good sized meal.
So vegans, here's what you can eat at Chipotle:
Sofritas
Sofritas is actually organic shredded tofu braised with chipotle chilis, roasted poblanos, with a blend of other spices. An equally delicious protein alternative!
Cilantro-Lime Brown & White Rice
This rice is steamed, and simmers with bay leaves for flavor (instead of butter, which can sometimes be found when making rice). It is seasoned with lemon and lime juices, and topped with cilantro.
Black Beans & Pinto Beans
Although the Pinto beans used to have bacon in them for flavoring, Chipotle made a switch so the restaurant could be more vegan-friendly. Both sets of beans are simmered with onions, adobo, garlic, and various seasonings.
Fajita Veggies
The vegetables are simply caramelized onions and bell peppers that are seasoned with oregano.
Salsa
The fresh tomato (mild), green chili (medium), and tomatillo red-chili (hot) salsas are all made with vegetable products and seasonings, all sans-animal products!
Roasted Corn
The roasted corn salsa is made with poblano peppers, red onions, jalapeños, cilantro, and lime/lemon juice!
Lettuce
Add a little crunch to your taco, burrito bowl, or even make it a salad with the heaping amounts of romaine lettuce that they have atChipotle!
Guacamole
Avocados and delicious, mouth-watering seasonings? Yeah, you can have that goodness.
Tortillas
If you're OK with grains, then having all of these delicious toppings in a taco or in a burrito is still okay as a vegan!
So even as a vegan, there are still a lot of delicious options at Chipotle. If you want to read more, check out the official Chipotle website!
Images: Getty Images; Giphy