7 Things You Should Know Before Donating Blood For The First Time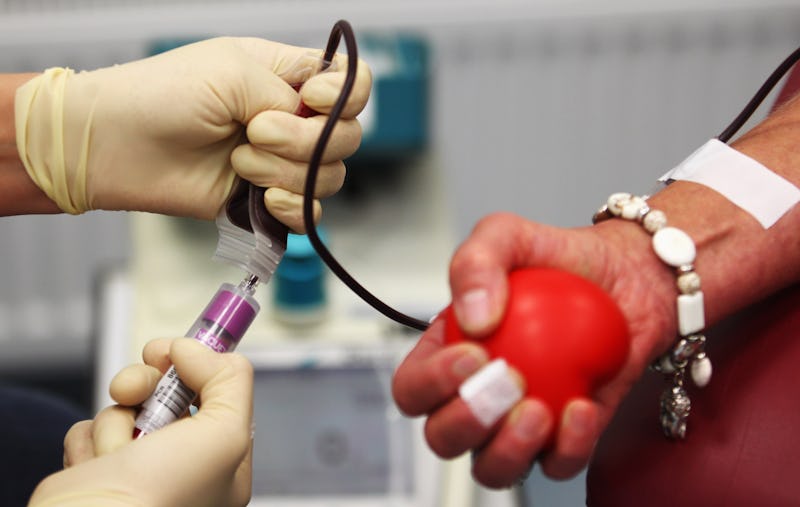 Joern Pollex/Getty Images News/Getty Images
Blood donations are super necessary to maintain healthcare services, and provide people life-saving care — but they need to be replenished constantly, since blood cells only have a 42-day shelf life. So if you've decided to donate blood for the first time, congratulations! But there are some things everyone should know before donating blood, especially if you're a first timer. You may find that it's a little bit more complicated than just showing up.
"Donating blood is a simple and easy way to make a life-saving difference for someone in need. For just an hour of your time, donors can save up to three lives," Cliff Numark, Senior Vice President of the American Red Cross, tells Bustle.
Blood donations help somebody once every 2 seconds, according to the Red Cross, and many of us will know somebody who needs blood at some point in their lives. When you're gearing up to donate, though, don't believe myths like "everybody faints" (it's actually quite rare) or "very few people are eligible" (around 38 percent of the population can give blood, according to the Red Cross). And it's particularly crucial right now. "During the months of May and June the Red Cross collected 56,000 fewer blood donations. This, coupled with a tough July 4 holiday week for collections, resulted in a significant drawn down of the Red Cross blood supply," the Red Cross tells Bustle. "In order to meet the needs of hospitals and patients across the country the Red Cross must collect 13,000 donations each day." Here are the things you should expect when you walk confidently through the doors to donate.