All The Items Experts Say Should Be In Your Survival Kit In Case Of An Earthquake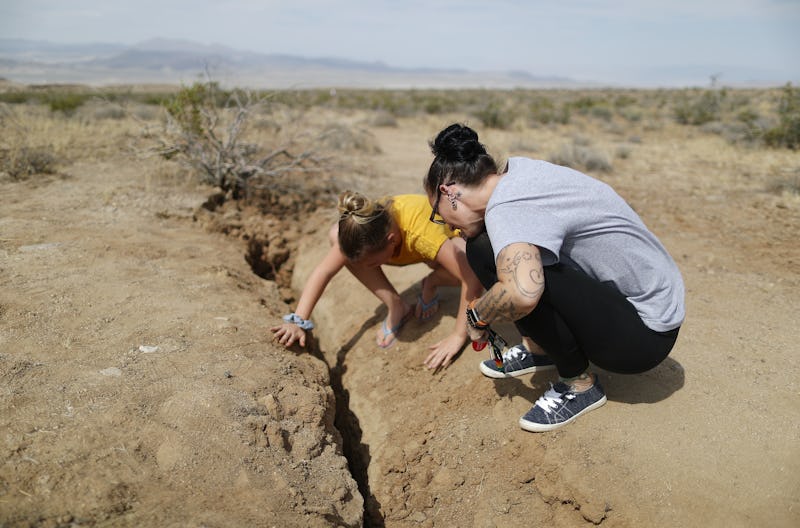 Mario Tama/Getty Images News/Getty Images
Right around the Fourth of July holiday, two powerful earthquakes rocked southern California — and aftershocks from these seismic events continued for days. As the state recovers, some residents might be concerned about being properly prepared in case another earthquake strikes. If you're in California, or a different zone that's prone to earthquakes, experts have a few suggestions for what to put in your earthquake survival kit.
Being prepared for an earthquake is the best way to help ensure your safety and that of your loved ones. Sarah Sol, the media relations manager for the California Earthquake Authority, a non-profit organization that provides earthquake insurance to California residents, emphasizes this point in an email to Bustle, writing:
All of California is earthquake country — earthquakes can happen at any time. So, while there's no need to live in fear, we do want to remind people that there are some basic steps they can take now so that they're better prepared to both survive and recover from a damaging earthquake.
As the Red Cross described on its website, earthquake emergency kits are essential because quakes can cause significant damage to roads and buildings. That damage, in turn, can prevent residents from leaving their homes to access basic necessities. Moreover, sometimes earthquakes cause such extensive damage to people's homes that they have to evacuate — and having emergency supplies with you during an evacuation is imperative.
"You should be prepared to survive [an earthquake] at home, at work, and even when out and about (in your vehicle)," David Barrett, the executive officer of the My Safe Community Project at MySafe:LA, an organization that offers life and fire education services to Los Angeles residents, writes to Bustle. "Ideally, that means having an earthquake survival kit in all three places." He also emphasizes that kits should be placed in areas where they're accessible in the event of an earthquake, like near building exits.
Whatever situation people may find themselves in during an earthquake, it's clear that having a readiness kit is crucial — and so is stocking it with the right supplies.