Here's How To Confront Your Relatives Who Make Offensive Comments This Thanksgiving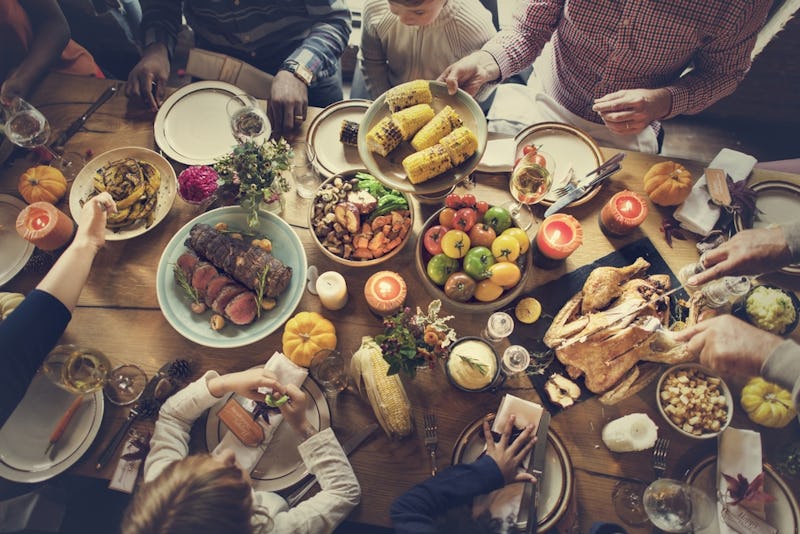 Rawpixel.com/Shutterstock
For many people in the United States, Thanksgiving is a time to come together, spend time with loved ones, and enjoy an array of favorite holiday foods. In today's politically tense climate, however, it's possible that someone, whether a family member or a family friend, will make some kind of offensive comment at Thanksgiving, and you'll want to know what to say back. You may love your family, but they might not be aware of the ways their views are offensive — and a long meal at your aunt's house is a great place to help them understand the consequences of their actions.
One of the main ways these comments can come out is in the retelling of the Thanksgiving myths itself. The actual history of Thanksgiving Day is a far cry from the myth of a peaceful meal shared between pilgrims and Wampanoag Natives. While the feast might have been an observance of a temporary peace treaty between white colonists and the Wampanoag, it may also have been a celebration of the slaughter of 700 Pequot people. The Thanksgiving Day story as many non-Native Americans learn it erases the history of Native peoples, and minimizes the impact of violent colonialism on indigenous populations in North America.
While you might choose to reframe Thanksgiving in a way that acknowledges the violent history of colonialism in the United States, you may still have a few family members who cling to cultural narratives that impart harm on marginalized people. Knowing how to skillfully deal with offensive comments at Thanksgiving dinner is key to helping your family unlearn these narratives.
If you choose to observe Thanksgiving as a day to give thanks and be with family, that's totally your choice. But it is important to understand how complex the holiday really is. Here are nine ways to call out offensive comments at your family's Thanksgiving table this year.