Michelle Obama's Platform As First Lady Made An Impact That's Still Felt Today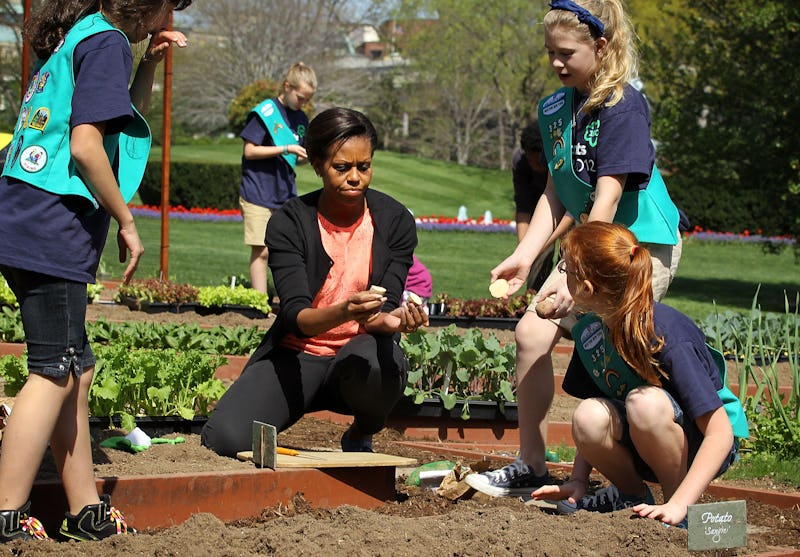 Alex Wong/Getty Images News/Getty Images
On Monday, First Lady Melania Trump will announce what goals she'd like to focus on while living in the White House. This is typical of first spouses, though her agenda will likely differ from what Michelle Obama's first lady platform was.
When her husband was president, Michelle focused specifically on combating childhood obesity. She spearheaded several different programs focused primarily on nutrition, and encouraged children and families to prioritize their overall physical well-being. According to multiple reports published around that time, her concerns about child obesity stemmed from her daughters' own doctor telling her to keep an eye on any changes to their body mass indexes.
"Even though I wasn't exactly sure at that time what I was supposed to do with this information about my children's BMI," Obama told NBC in 2010, "I knew that I had to do something. I had to lead our family to a different way."
In February 2010, just a little over one year after her husband was inaugurated to the presidency, Obama announced her plan to fight childhood obesity. Following her announcement, she would launch "Let's Move," her signature initiative, which laid out a series of goals targeting how families approached healthy food consumption.
"We want to eliminate this problem of childhood obesity in a generation. We want to get that done," the former first lady said on Good Morning America following her announcement, according to ABC. "We want our kids to face a different and more optimistic future in terms of their lifespan."
A year prior, Obama had launched her White House vegetable garden, which is still in place nine years later, Politico reports. (Melania Trump worked in the garden last fall, harvesting vegetables with local students.) Using the momentum established from the garden — her first step toward fighting for improved nutrition — Obama set out to educate the public about healthy eating, and to promote accessibility to nutrient-dense foods.
"The physical and emotional health of an entire generation and the economic health and security of our nation is at stake," Obama said in a statement at the time. "This isn't the kind of problem that can be solved overnight, but with everyone working together, it can be solved. So, let's move."
Let's Move focused on four key goals: helping parents understand what healthy food is, improving the quality of food served in schools, improving access to healthy foods for people in all economic situations, and promoting exercise.
The former first lady is also credited with helping push through the Healthy, Hunger-Free Kids Act of 2010, which raised the nutrition standards for school lunches, according to the Department of Agriculture. Though she wasn't able to vote to help pass legislation, her work to combat obesity helped garner support for the act.
As for the current first lady, her plans are a little less clear. While on the campaign trail, Trump promised to help fight cyberbullying, should her husband be elected.
"We must find better ways to honor and support the basic goodness of our children, especially in social media," the first lady said in a 2016 campaign speech, according to Politico. "It will be one of the main focuses of my work if I'm privileged enough to become your first lady. I will also work hard to improve everyday life for women."
Her spokesperson told CNN on Sunday that she plans to fight for overall childhood well-being. "As has been evidenced by the many events Mrs. Trump has participated in during her time as first lady, her focus will be the overall well-being of children," her spokeswoman Stephanie Grisham said.
She described Trump's approach as "unique" because she hadn't "narrowed her platform" as other first ladies had done. "Mrs. Trump wishes to help the next generation by creating change through awareness on a variety of issues that affect children," Grisham said.
Trump is expected to make her announcement from the Rose Garden on Monday at 3 p.m. ET. In a tweet on Sunday afternoon, she said that those who want to watch live should tune into the White House's Twitter account.