A Stolen Secret Service Laptop Might Have Highly-Sensitive Info On It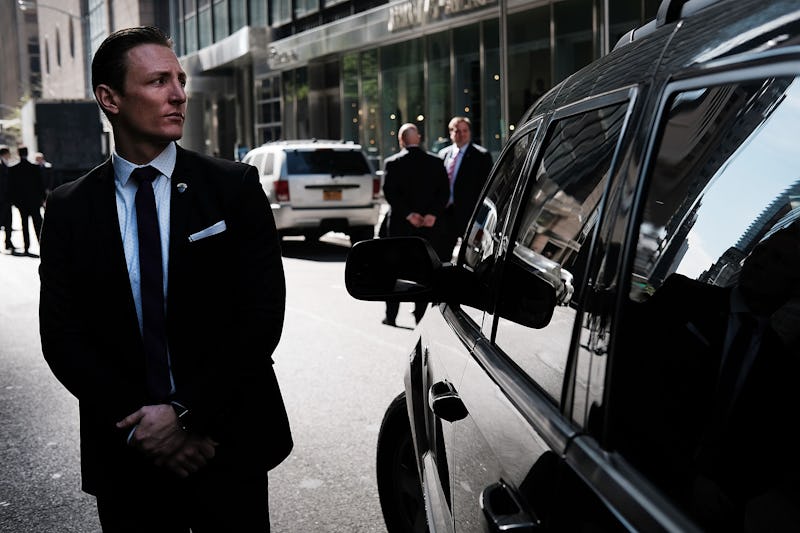 Spencer Platt/Getty Images News/Getty Images
An agency-issued laptop belonging to a U.S. Secret Service employee has been stolen, the agency said in a statement released Friday. According to the Secret Service, a laptop was stolen from an agent's car Thursday in New York City and was still missing as of late Friday. But what was on the stolen Secret Service Laptop? Reports claim it may have had sensitive information about President Donald Trump and former Secretary of State Hillary Clinton on it.
In a statement released Friday, the Secret Service confirmed "an employee was the victim of a criminal act" that resulted in the theft of an agency-issued laptop computer. According to a police report reportedly obtained by the New York Daily News, the laptop was stolen from an agent's vehicle, which was parked outside of the agent's home in Brooklyn on Thursday. Official Secret Service lapel pins, a bag with the agency's insignia, and a variety of other items were also stolen, ABC News reported law enforcement officials had revealed.
The Secret Service would not specify exactly what information was on the stolen laptop, but said such agency-issued computers were "not permitted to contain classified information." But while there may not be any classified information on the laptop, it certainly appears as if it may have contained, at the very least, some highly-sensitive information. A report from ABC News claimed law enforcement officials had said the laptop's contents included floor plans for Trump Tower and information pertaining to the investigation into Clinton's use of a private email server. CBS News reported law enforcement sources had said there was information regarding Pope Francis on the laptop. Meanwhile, the New York Daily News claimed the laptop also contained evacuation protocols.
While it's unclear exactly what information might have been on the laptop, the Secret Service has said there are certain security measures in place on the computer to protect its contents. "Secret Service issued laptops contain multiple layers of security including full disk encryption," the agency said. The Secret Service refused to comment on the incident further as "an investigation is ongoing." According to CBS News' Jeff Pegues, the stolen laptop "is being investigated as a compromise of national security."
According to news reports, while the laptop remains missing some of the other items stolen from the agents vehicle early Thursday have since been recovered. The laptop theft comes just a week after an intruder scaled a fence and managed to remain on White House grounds undetected by Secret Service agents for at least 15 minutes.