'13 Reasons Why' Star Kate Walsh Reveals What Season 2 Will Be About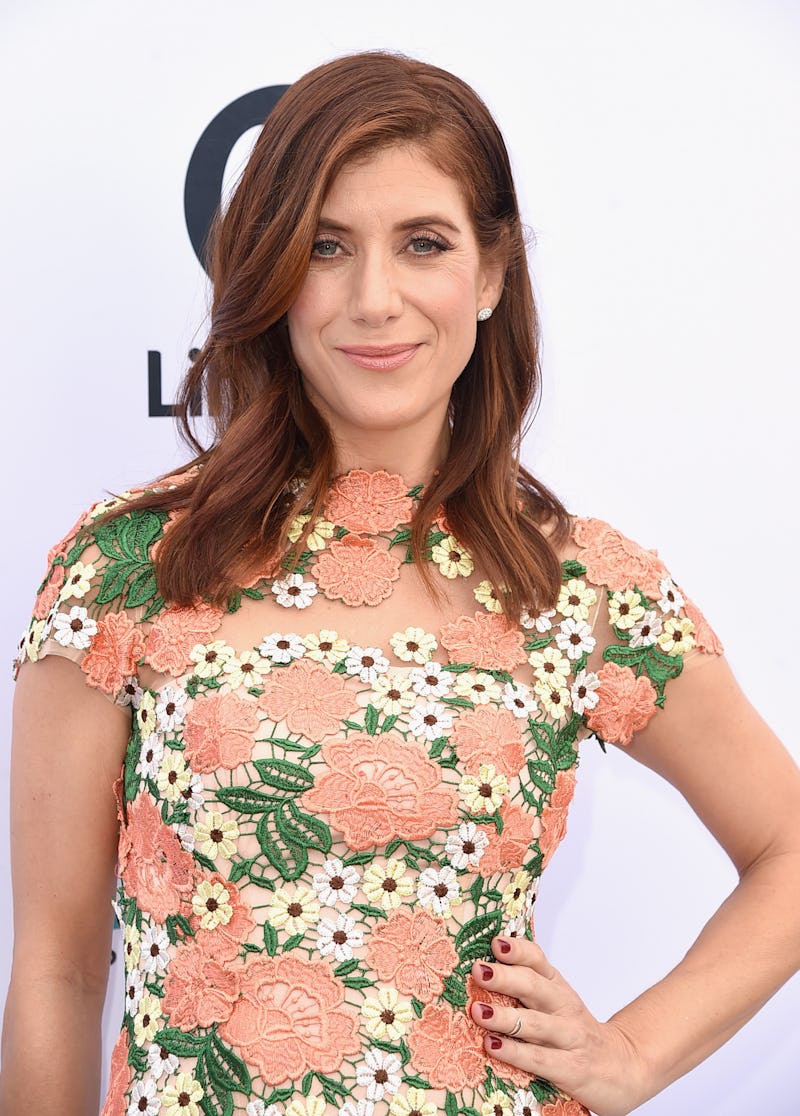 Kevin Winter/Getty Images Entertainment/Getty Images
Netflix's 13 Reasons Why was one of the most talked about shows of 2017, and for good reason. The series resonated with a lot of viewers, but also received some intense backlash for its depiction of suicide and Hannah Baker's journey to that breaking point. Despite all that, it was highly successful, and the show is coming back sometime in 2018. While there's much that's still unknown about what 13 Reasons Why Season 2 will be about, star Kate Walsh (aka Hannah's mom) reveals that it'll focus on Bryce Walker, arguably the worst character on the show's Season 1.
"I think it's gonna amazing, and it's gonna deal a lot with Bryce Walker," says Walsh when we speak at the Go Red For Women Red Dress Collection Fashion Show on Feb. 8 in New York. "And the culture of and storytelling of sexual assault, and I think it's gonna be incredibly powerful."
In 13 Reasons Why Season 1, Bryce not only raped Jessica while she was unconscious, but also did the same to Hannah in a hot tub. Right now, with #MeToo and Time's Up empowering women to speak up about being assaulted and harassed, the show's Season 2 will undoubtedly be extremely relevant. And let's not forget that Bryce's story was not resolved at the end of Season 1; Clay gave the tapes to Mr. Porter, skipping over Bryce, and there were no repercussions for the crimes Bryce committed. With that kind of non-resolution, there'll definitely be plenty to explore and discuss in the upcoming episodes, which Walsh reveals have already been filmed.
Hopefully, Bryce will be held accountable for his actions, especially since Clay got a taped confession from him in Season 1's finale. We do know from Walsh that the new installments will deal with assault to some degree, at least, and in a statement announcing Season 2, Netflix said, "[The show] picks up in the aftermath of Hannah Baker's death and the start of the characters' complicated journeys toward healing and recovery." That's not all; in an interview with Entertainment Weekly, showrunner Brian Yorkey revealed, "All the cliffhangers that we saw at the end of Season 1 go back to the initial set of traumas that we're talking about... They're all related, so I would very much like to explore where they all go and to see if there is, as I think there will be, some light for these kids."
Among the things that are known about this upcoming season is the fact that Hannah Baker will be back in some form. Katherine Langford told EW that the character's journey this time around will be very different from what's been shown so far. "I would prepare fans not to expect the Hannah from Season 1 for a multitude of reasons," Langford said. Odds are there will be plenty of flashbacks to scenes not shown in Season 1 or shot from different perspectives. Or perhaps Hannah will appear in other, possibly dream-like ways.
Then there's Clay, who is still trying to get through everything that happened with the events of Season 1. Star Dylan Minnette told Seventeen that he really doesn't see Clay ever being able to shake those things. "No matter what, it's going to take him a while to recover," Minnette said. "You can see that it's not easy for Clay to let anything go. And that's expected. I don't think anyone expects Clay to just kind of think of Hannah and be like, 'No, it was nothing.'" Minnette also said that Clay's waitress pal Skye Miller will be around in this new season, although it's unknown in what capacity. Skye definitely seemed like she needed a good friend in her life, as did Clay, so hopefully it works out one way or another.
Whatever this season holds, the cast has high hopes, including Walsh. "Bryan Yorkey and the writers and the crew and cast did such an incredible job, so I'm really excited for the world to see it," she tells me. Selena Gomez, who is an executive producer for the Netflix show, also wrote in an Instagram post, "Good or bad we are committed to having the tough conversations, to telling the story that can start change."
Heavy discussions are important, as Gomez says, and in a time when men and women are coming forward about harassment yet still being victim-blamed, it's also important to address these topics with great care. Hopefully 13 Reasons Why's new episodes will do just that.
If you or someone you know has been sexually assaulted, call the National Sexual Assault Telephone Hotline at 800-656-HOPE (4673) or visit online.rainn.org.