So, What Will Happen To The Han Solo Movie?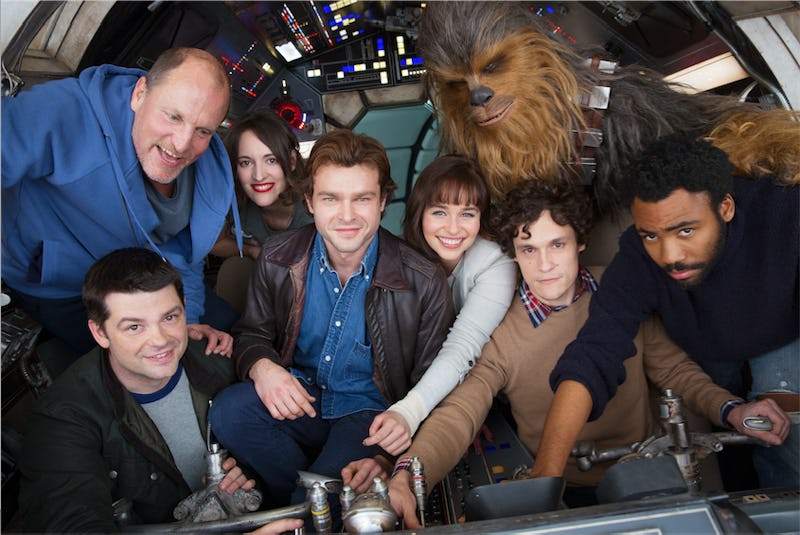 Walt Disney Studios
In case you haven't heard, the upcoming Star Wars movie has lost its directors, Phil Lord and Christopher Miller, with Kathleen Kennedy citing "different creative visions" as the reason for the split. But what will happen to the Han Solo movie? In the same statement, Kennedy said, "A new director will be announced soon." As such, it seems highly unlikely that she's currently accepting applications for the role — let's be real, she probably has a name in mind, if not already close to signed on. This is doubly likely since, according to Entertainment Weekly, Lucasfilm stated the film will still have a May 2018 release.
In terms of speculation as to who could be taking over the reins, Deadline has reported that Ron Howard (who directed films like A Beautiful Mind and The Da Vinci Code) is the "top choice" to replace Lord and Miller. According to The Hollywood Reporter's unnamed sources, Joe Johnston is another contender. You may know him from works like Honey, I Shrunk The Kids; Jumanji; and Captain America: The First Avenger. Also being considered is Lawrence Kasdan (Darling Companion, Dreamcatcher, Mumford). This last choice is particularly interesting since according to IMDb, Kasdan is already on board at the film writing the script for the untitled Han Solo Star Wars anthology film.
This could potentially complicate things for Kasdan, though. As The Hollywood Reporter has already observed, there are Directors Guild of America rules, which state, "Except in an emergency (and then, only for five days), no person already assigned to the motion picture may replace you." Translation? If you're a writer on a movie, you shouldn't be able to take over as the director.
Regardless of who the new director will be, the question of how to proceed remains. Will the new auteur start completely from scratch or rework old material? An unnamed source at The Hollywood Reporter claimed the new director will use the following weeks, in which production will be shut down, to review the footage shot by Lord and Miller so far and to "re-edit what they've filmed 'and go from there.'"
While it's disappointing to hear that the original directors have left, Lucasfilm's confidence that they can still meet the May 2018 release date fills me with a weird sort of optimism. Presumably Kennedy has some sort of game plan in place — one that we should learn about over the next few weeks.