This Is What People Are Speculating Meghan Markle's Title Will Be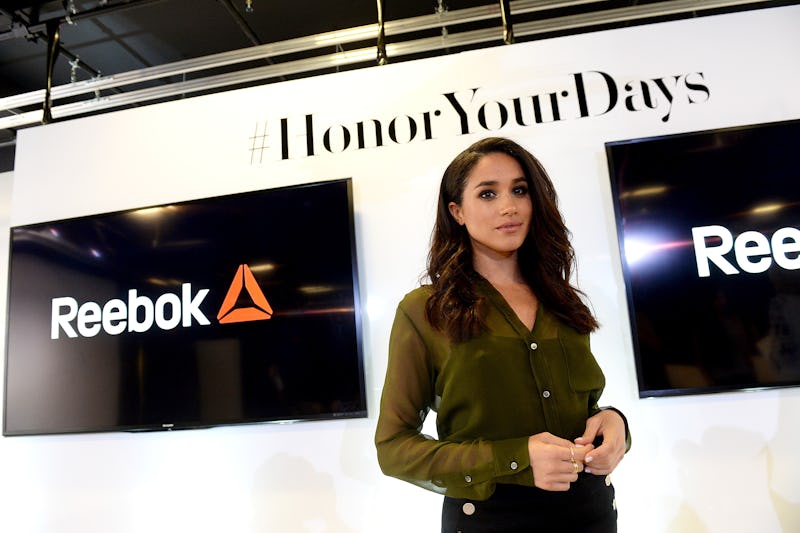 Darren McCollester/Getty Images Entertainment/Getty Images
The news of Prince Harry's engagement to American actress Meghan Markle comes with both celebration and many questions. One of the foremost of these is really only one that you ask about marriage when it involves royalty: what will Meghan Markle's title be?
There are two directions that this could go. Prince Harry's current official title is His Royal Highness Prince Henry of Wales, and if he keeps that title after getting married, then Markle would be entitled to use the feminine version of his title. In that case, she would become Her Royal Highness Princess Henry of Wales.
However, it's altogether likely that the Queen would bestow upon Prince Harry a new title — just like she did with Prince William. When Prince William married Kate Middleton, he became His Royal Highness The Duke of Cambridge, and her official title is now Her Royal Highness The Duchess of Cambridge. So, if Prince Harry is granted a dukedom and thereby becomes a duke, then Meghan Markle would become a duchess. Specifically, royal historians speculate that the Queen would grant Prince Harry the dukedom of Sussex, which would lead to the pair becoming His Royal Highness The Duke of Sussex and Her Royal Highness The Duchess of Sussex.
Although it's tempting to jump straight to calling Markle "Princess Meghan," that's something that we can rule out as her title. While she could indeed become HRH Princess Harry, only women actually born into the royal family can hold the title of Princess by themselves — like Princess Charlotte, Will and Kate's daughter. If you were paying attention, you would have noticed that no one ever refers to Kate as Princess Catherine or anything like that, at least not in all seriousness — because her title is actually the Duchess of Cambridge.
Even as a duchess and not Princess Meghan, Markle will be making plenty of history as it is. She's the first American to join the British royal family, in addition to being the first biracial person and the first actress. She also comes from a Jewish family, and she's a divorcee — but don't worry, they'll still be able to get married in Westminster Abbey. Yes, there once was a British royal who married an American, but she can hardly be said to have joined the family. When then King Edward VIII abdicated in order to marry Wallis Simpson, an American divorcee, the two gained the new titles of the Duke and Duchess of Windsor, but Simpson refused to be called Her Royal Highness.
And while there was some speculation that Markle's status as a divorcee would cause issues, this fortunately won't be the case this time. Harry has received support from the Queen and the rest of his family for his engagement to Markle, unlike the situation with Wallis Simpson or even with Prince Charles' second wife Camilla Parker-Bowles, who had also been married before. Since those weddings, though, both the monarchy and the Church of England have relaxed their stances on divorces. Now, Markle and Prince Harry can get married surrounded only by celebration and fanfare, with no question over whether Harry would have to give up his position in the line of succession to marry the woman he loves.
Despite her shiny new title, though, Markle won't join Harry and his family in actually being in line for the throne. Harry is currently sixth in line, after his father Prince Charles, his brother Prince William, and William's three children — including the baby that Kate is currently pregnant with. Marrying Prince Harry will probably make Markle a duchess — but she can still never expect to be queen.