Hillary Clinton's New PAC Will Bankroll Progressive Causes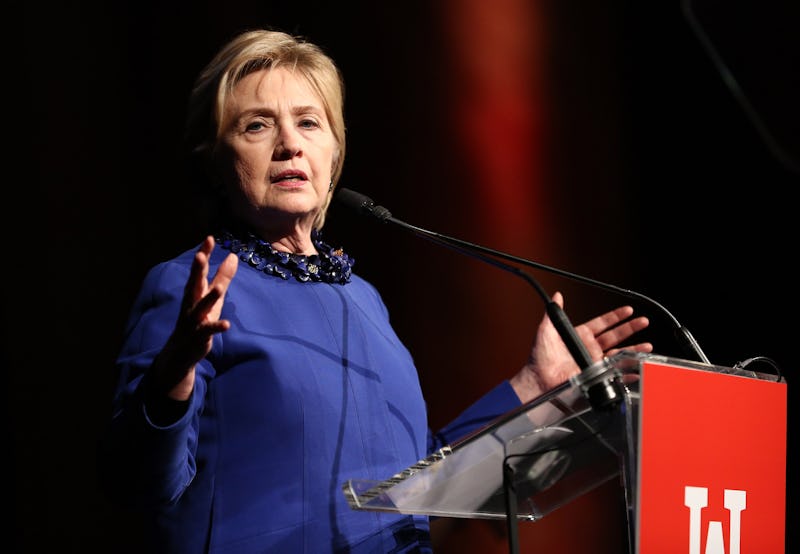 Monica Schipper/Getty Images Entertainment/Getty Images
On Monday afternoon, former Democratic presidential nominee Hillary Clinton announced a new political group, Onward Together, on her Twitter account. The mission of the website says that it aims to encourage "people to organize, get involved, and run for office." It further states that the organization "will advance progressive values and work to build a brighter future for generations to come." The name of the organization appears to be a spin on Clinton's campaign theme, "Stronger Together."
In a tweet to her followers on Monday afternoon, Clinton declared, "We're launching Onward Together to encourage people to get involved, organize, and even run for office." In follow-up tweets, Clinton talked about having reflected on the previous year. She said, "This year hasn't been what I envisioned, but I know what I'm still fighting for: a kinder, big-hearted, inclusive America. Onward!" Clinton also emphasized upon "citizen engagement" for advancing democracy.
The website for Onward Together points to the previous year's election and the political rift in the United States on the issues of immigration, refugees, and women's rights. Onward Together's support — including monetary assistance in the form of direct funding — will go to five liberal-leaning entities: Swing Left, Emerge America, Color Of Change, Indivisible, and Run For Something.
At a cursory glance, all five groups have distinct missions. Swing Left is a liberal-leaning group aiming to "take back the House in 2018" by targeting swing districts, Color Of Change is centered on racial justice for minorities within the United States, Emerge America focuses on training Democratic women for public office and more political participation, Indivisible is a group effort led by former congressional staffers aiming to "resist Trump's agenda," and Run For Something seeks to recruit millennials for "offices like state legislatures, mayorships, city council seats, and more."
The organization can be viewed as Clinton's attempt to remain politically active after her loss in the presidential race of 2016. Recently, Clinton described herself as a participating citizen in a statement saying, "I'm back to being an active citizen and part of the resistance."
The plan to fund the liberal groups isn't exactly new as the idea for Clinton's new organization began floating a few weeks ago, according to CNN. The purpose, according to the report, is to connect groups to donors but the website for Onward Together has yet to publicly share names of any entities interesting in funding the aforementioned groups.