The 'Stranger Things' Cast & Creators Dropped Some Season 3 Clues & They're Totally Wild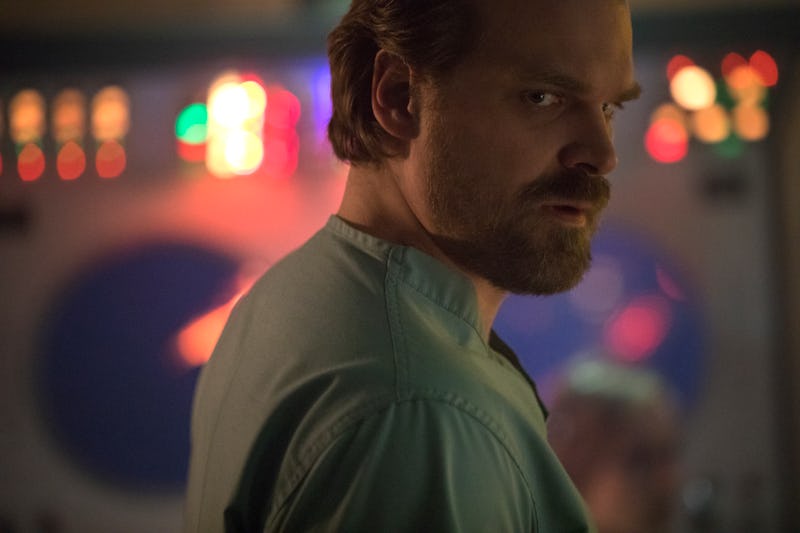 Jackson Lee Davis/Netflix
Stranger Things Season 1 came out of nowhere, pulling in fans like crazy and leaving them with a huge cliffhanger. If you've already finished Season 2, you're back in hiatus land and probably trying to figure out what Stranger Things Season 3 will be about. The Season 1 finale set up a couple of mysterious to be solved, particularly what was up with Will and the slugs coming out of his gullet and where Eleven ended up after defeating the Demogorgon. Spoilers for Season 2. But the most recent season of Stranger Things wrapped at the Hawkins Middle School Snow Ball, in a flurry of hormones, empathetic deeds, and tween awkwardness. How can we possibly guess what's going to befall Hawkins next?
Well, the Netflix series couldn't resist leaving fans without one more creepy and ominous image. The Shadow Monster (or the Mind Flayer) is still in good health in the Upside Down, and it's keeping watch over the school. On Beyond Stranger Things, the Netflix after-show, co-creators the Duffer brothers gave some insight as to why they chose a more ambiguous hint than they did in Season 1.
"It was a decision we made this year in that we didn't want to start people off on their journey," Matt Duffer said, referring back to the Will and Eleven cliffhangers from Season 1. "I didn't want to accidentally box us into something that we would later regret. The idea that this sentient Mind Flayer thing is still out there... "
"And Will has a connection to it, even if it's lost," Ross Duffer chimed in. "And this thing has become very aware of Eleven." ("I'm screwed," actor Millie Bobby Brown added.)
According to comments made to Vulture earlier this year by the creators, Stranger Things will continue for a third and fourth season and then come to a planned end. Netflix hasn't made their official announcement, but there's never been a surer bet.
It makes sense that the writers wanted to give themselves space to break the next chapter of the story. They're not locked into any particular connection between the monster and the people of Hawkins, other than those Season 2 already established. Ross' comments about Will and Eleven, though, reveal that the Mind Flayer isn't just looming over the school for dramatic effect at the end of the season. (Though it does seem like it loves drama.) It's there because that's where Will and Eleven are. And they both, in their own ways, defeated it.
Also on the after show, the actors and creators talked about the emotional journeys their characters went on in Season 2, the unexpected relationships that developed, and how those enriched dynamics may be explored in the future. Because, let's be honest, the monster stuff is sort of secondary to Stranger Things now. Fans are officially in love with the residents of Hawkins and just as interested in their personal lives.
Natalia Dyer posited that her character Nancy would still be dealing with fallout of Barb's death and, presumably, of breaking Steve's heart. The Duffers talked about how much they love the Steve/Dustin "bromance," so here's hoping that they stay buds in Season 3. Actor David Harbour made it very clear that he's rooting for "Jopper," aka the 'ship of his Jim Hopper and Winona Ryder's Joyce. "I feel like they're two really lonely lost people who really need each other," Harbour said. And he added, to lots of "too soon" groans from his coworkers, "The short answer of that I do think the sex would be a lot better with Hopper than it is with Bob."
Ross Duffer hoped out loud that Will would get a break in Season 3, saying, "He'll just be hanging out, having fun." But Eleven probably won't get to enjoy being Jane Hopper, average middle school student in first-time puppy love, for very long.
"Well it's a complicated dilemma in terms of everyone wanting her to be able to live a somewhat regular life," Matt Duffer said on Beyond Stranger Things. But she's become a teenager with increasingly intense power. I could see a lot of things going nuts."
So it seems as if even the writers aren't quite sure yet how the otherworldly threat beneath Hawkins will make itself known next time around. So until Season 3 starts to take shape and Netflix lets us in on some teasers, fans will just have to settle for doing some speculating on their own.