What Winning A Supreme Court Case Really Feels Like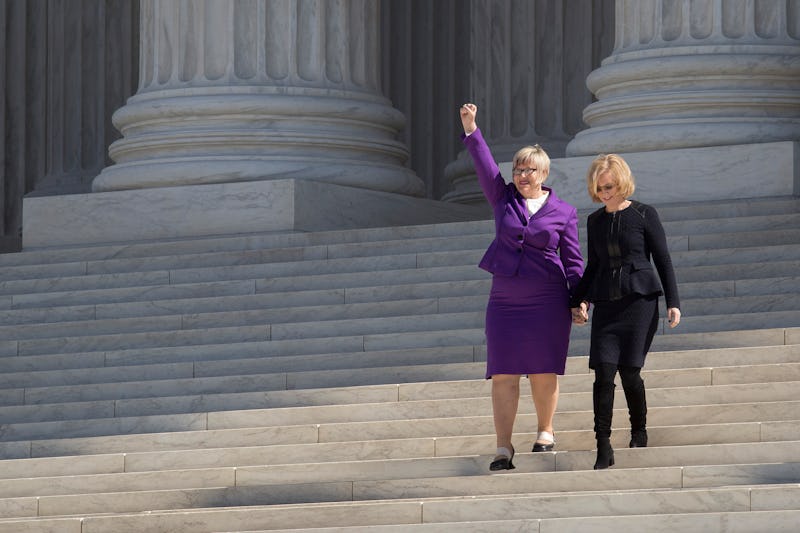 Drew Angerer/Getty Images News/Getty Images
One year after the Supreme Court handed Whole Woman's Health a decisive victory in declaring that Texas' abortion restrictions created an undue burden on women, lead plaintiff Amy Hagstrom Miller refuses to quit. Before she was even able to take the time to process what had happened, Hagstrom Miller found herself immersed in a new lawsuit. The aftermath of her Supreme Court victory probably doesn't look like what you imagined.
Yes, there were the dozens of providers and clinic staffers telling Hagstrom Miller that her work kept their clinics open. There was the Alabama governor dropping his appeal of a ruling that declared his state's abortion clinic law unconstitutional. There was Virginia using the Whole Woman's Health decision to repeal its TRAP laws. There was even the application of the decision to laws attacking voting rights. "It's amazing to be a part of that, to have that part of a legacy," Hagstrom Miller tells Bustle.
The Whole Woman's Health team celebrated the win, of course, but beyond those happy experiences, there were the behind-the-scenes struggles that occurred on a daily basis. "It's hard for me to sort of celebrate the anniversary when I reflect on the past year," Hagstrom Miller says. "It's hard to see the bright spots with the election of Trump, what a disaster it's been for us morally and ethically, and how much we're torn apart."
"But it's really because of that, that I feel it's important for us to celebrate the victories we win along the way," she says.
Here's how she got to that point.
The Grief
For three years, Hagstrom Miller kept her grief inside a tiny box, packaged neatly away for no one except her closest confidantes to see. She felt unexpectedly sad when her organization won, finally dealing with the devastation over the women whose lives were affected while the clinics throughout Texas were shut down, the heartbreak over the people Whole Woman's Health had to lay off, and the personal and financial fears she suffered — emotions she had to keep hidden for years until she finally had the space for them.
"It was interesting," Hagstrom Miller says. "People were like, 'Aren't you so happy?' Because I kind of kept it to myself, except for the people who were close to me. But actually I felt really sad in a way that I wasn't able to feel, as I had to kind of lead the fight."
The Vacations
Then there were vacations. Hagstrom Miller is no stranger to the importance of mental health (she got through the stress of the case — and the 2016 election — with a swimming pool and a chiropractor). Once the victory was won, and before anything else could land on their dockets, she told all of her employees to take a vacation.
She says she told the Whole Woman's Health team, "We're not even going to talk about what's next until you've taken some time off and spent time with your families and, you know, gotten better."
The Nuts And Bolts
The next order of business was to reinvest in the three Texas clinics that she was able to keep open during litigation. While the Supreme Court case was underway, Whole Woman's Health clinics in San Antonio, McAllen, and Fort Worth stayed open, though McAllen and Fort Worth each opened and closed twice because of the admitting privileges requirement. Even when the McAllen clinic was closed, though, Hagstrom Miller continued to pay the mortgage so that she could have standing in the legal challenge.
Once the decision was handed down, Whole Woman's Health started on the small bits of work they had to put off for three years. "It sounds not very sexy, but to clinic people it is," she says.
That meant new ultrasound machines, resurfacing the parking lots, repainting rooms, and a new countertop in the staff lounge. These were "really important things for clinic people that we had not been able to do because we didn't have money or the certainty we were going to be open."
The Reopening
Whole Woman's Health also reopened its flagship Austin clinic in April. But like the stabilizing of the three clinics that had stayed open, the reopening was also not "romantic," as Hagstrom Miller puts it. When a business is closed and three years passes, she says, all the assets go with it. To reopen the clinic, Whole Woman's Health had to find a new staff and a new doctor team, purchase all new medical equipment, find a lease, invest in the property with paint and tile and flooring, put in a security system, receive a new license from the state, and line up all the new insurances they have to carry.
"That's the hard part," Hagstrom Miller says. "You can have this win on paper but are we all going to be able to have the stamina and the capital to be able to actually reopen?"
Whole Woman's Health in Austin reopened as a nonprofit so that Hagstrom Miller can receive funding and community support. It was watching her team pull it all together that was most rewarding. "It was so meaningful to them," she says, "so meaningful."
The New Legislation
Part of the reason Whole Woman's Health reopened as a nonprofit was also because Hagstrom Miller went into it "knowing that this isn't our last fight, knowing that Texas is a difficult place to have abortion facilities."
Four days after the Supreme Court decision on Whole Woman's Health v. Hellerstedt, the state of Texas tried to implement a host of administrative rules surrounding the disposal of fetal and embryonic tissue, requiring women to either have a funeral or cremation for every embryo. "It was flying in the face of our win," Hagstrom Miller says.
So along came Whole Woman's Health v. Hellerstedt 2. Yes, really. Whole Woman's Health challenged the disposal requirements, received an injunction, and is now currently stuck in the appeals process.
But as those administrative rules were stuck in court, Texas politicians then tried to get them passed another way. Legislators introduced the same requirements in an omnibus bill, along with an attempt to ban dilation and evacuation. D&E is considered the safest and most common abortion method, but opponents cite beliefs that fetuses can feel pain when speaking against the procedure.
While Whole Woman's Health challenge to the fetal tissue disposal requirements remain, Hagstrom Miller is now doing legwork against the D&E rules, too.
"So, who knows," she laughs, "maybe it'll be Whole Woman's Health v. Hellerstedt 3?"