What Women Who've Had Lyme Disease Want You To Know About It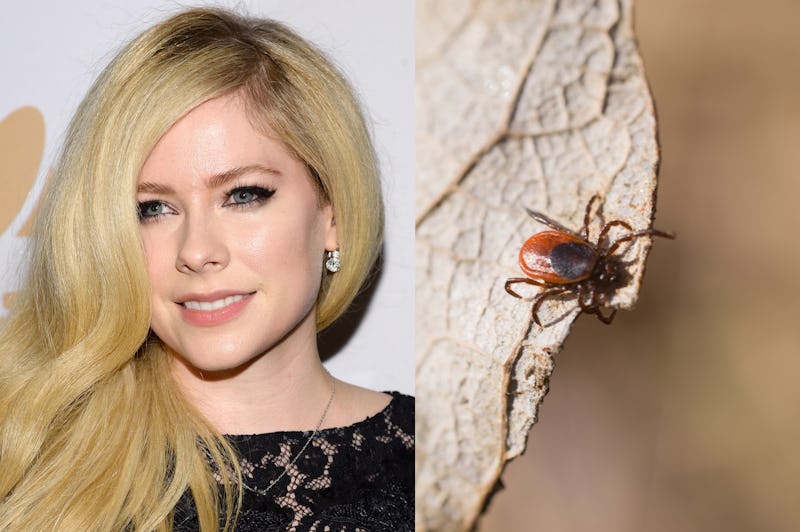 Kevork Djansezian/Getty Images Entertainment/Getty Images/ tuzyra/Fotolia
The three times in my life I have been diagnosed with Lyme disease, I was lucky. I was lucky I lived in a community where people knew what Lyme disease was (I grew up an hour away from Lyme, Connecticut, where it was first discovered). I was lucky I knew what to look for (a red, bullseye-shaped rash). And I was lucky to catch the disease relatively quickly, when it has the best chance of being treated with a quick course of antibiotics.
Not all people who develop Lyme disease — a tick-borne bacterial infection that can cause fatigue, joint pain, and flu-like symptoms, among other effects — are so lucky. Though the disease has become more widespread outside of the northeast since it was discovered in the '70s, awareness around the disease has not spread as quickly. A common theme for people who live with Lyme disease is having to search for doctors who won't dismiss their symptoms as a function of medical gender bias — or bias against the different forms of Lyme itself.
"Based on clinical studies, there are more women diagnosed with Lyme disease compared to men," Dr. Robert Segal, co-founder of LabFinder.com, tells Bustle, and this is especially true of lingering Lyme infections such as chronic Lyme disease (CLD) or post-treatment Lyme disease syndrome (PTLDS). (Chronic Lyme is generally understood to mean when the disease is not caught early, and the bacteria has spread throughout the body. PTLDS happens when symptoms of Lyme disease persist after being treated with conventional methods.) But diagnosing lyme itself accurately, especially a potential case of chronic lyme, can be tricky.
"Chronic lyme has really been the focal point of the controversy, and I think the reason it is is because it's become a misunderstood term that means different things to different people," Dr. John Aucott, M.D. associate professor of medicine and director of the Johns Hopkins Lyme Disease Research Center, previously told Bustle. Because of these discrepancies, it's difficult for people who may have early lyme, chronic lyme, or PTLDS to obtain the care they need — or even explain their disease to others.
When singer Avril Lavigne opened up about living with Lyme in an interview with Billboard, it was an important step in raising awareness around the disease and the complications that come with treating it. "I'm achy, I'm fatigued, I cannot get the fuck out of bed — what the fuck is wrong with me?" she told Billboard, describing her symptoms. And many other people with the disease undergo a similar journey trying to define their symptoms and find appropriate treatment. Bustle spoke with three women about their experiences with Lyme disease, and what they wish people knew about it.