How Mirai Nagasu's Skating Routine Made History Right Out Of The Gate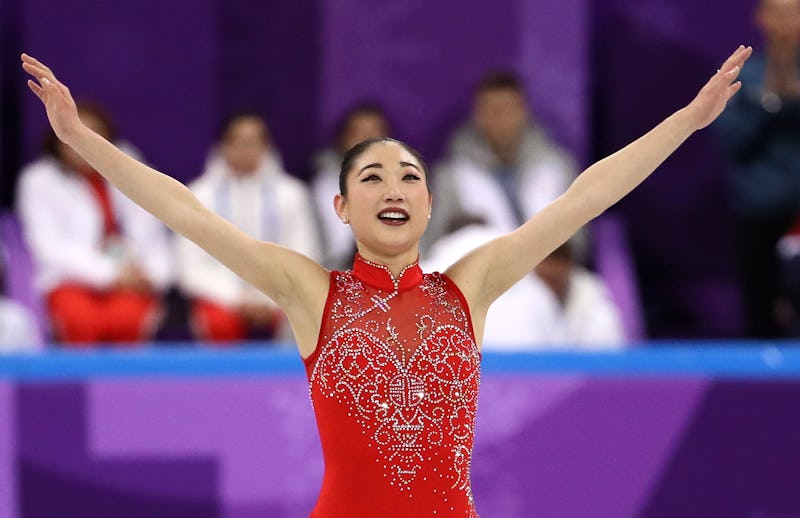 Jamie Squire/Getty Images Sport/Getty Images
American figure skating history was made on Sunday evening (Monday morning in South Korea), after the United States' Mirai Nagasu landed a triple axel during her free skate in the team figure skating competition at the 2018 Winter Olympics. With her successful jump, Nagasu became the first-ever American woman to land the triple axel at the Olympics — and only the third ever woman in the world to accomplish the feat.
A triple axel is a challenging figure skating jump that requires skaters to take off from a forward position and rotate three-and-a-half times while in the air. According to NBC Olympics, the axel jump (which can be single, double, triple, or even quadruple), is one of the most difficult figure skating jumps at the Olympics. While double axels are quite common in many skaters' routines, triple axels are exceedingly rare as a result of their difficulty. As such, triple axels are worth a substantial number of points (8.5) compared with those earned for double axels (3.3).
According to The Washington Post, Nagasu opened her free skate, which was set to music from Miss Saigon, with the daunting jump, immediately making history as she kicked off her program. She then continued to skate a stunning program, complete with eight more jumps following the record-breaking triple axel.
NBC Sports reporter Andrea Joyce interviewed Nagasu right after her historic performance, with the record-breaking skater telling Joyce that she was determined to land the jump.
To nail that triple axel, I tripped a couple of times going into it, but told myself "No, I'm going to go for it and I'm not pulling back." ... That was really special for me.
Nagasu also later told the Associated Press that she could feel the excitement in the air after she performed her initial jump, noting:
I don't know if you could tell — it was more something I could feel — but to nail it the way I did, even out of the corner of my eye I could see my teammates standing out of excitement. ... And at that moment I wanted to stop the music and get off, but I still had my whole program ahead of me, and to complete the performance to the best of my ability is really exciting.
According to NBC Olympics, Nagasu has been training the jump for several years in preparation for the Olympic Games. She told the outlet back in September that she could "always visualize" herself doing the jump and that, eventually, it became a very consistent jump for her during her practices.
Japan's Midori Ito and Mao Asada are the only other two women to ever land the triple axel in Olympic competition; Nagasu is the first American. She's also the third American woman to ever land the challenging jump in competition — Tonya Harding and Kimmie Meisner have also sucessfully landed it.
Nagasu's winning routine helped the United States figure skating delegation score a bronze medal on Sunday, behind first-place Canada and the second-place team composed of Olympic Athletes from Russia (OAR). For Nagasu, the bronze medal, and her historic jump, had particular significance, especially considering that she was passed over for a spot on the United States' 2014 Olympic figure skating team. Nagasu shared these sentiments with The New York Times.
Four years ago when I was left off the team, I wanted to make another Olympic team, and I knew I would really have to be something special. ... So to become the first American to land a triple axel at the Olympic Games is historical, and no one can take that away from me.
For Nagasu — and for the many people around the world watching her compete — this will surely be a games to remember.