Eric Is An Inspirational 'Bachelorette' Contestant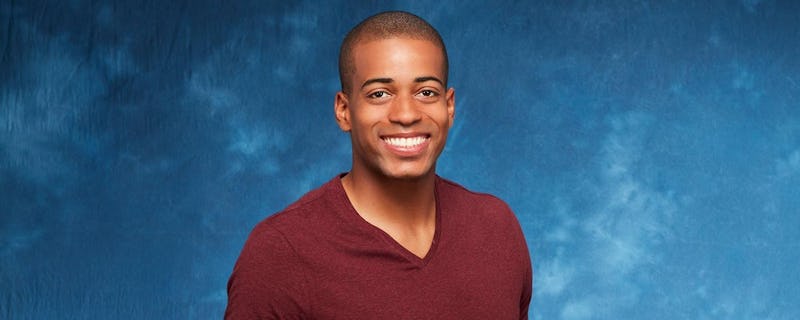 ABC
As Season 13 of The Bachelorette heats up for Rachel and her suitors, Eric Bigger has already had quite the journey. In the first episode, the fans fell for him, but now he and Lee are at the center of the show's drama. But what is Eric doing after The Bachelorette?
It's too early in the show to say for sure what Eric's full journey will be, but his social media may give fans a few hints of his post-show life. According to his LinkedIn profile, Eric describes himself as a "motivational speaker, difference maker, mentor coach, personal trainer, author, and CEO." Granted, that's a lot of roles for one person to take on, but he blends it seamlessly into his public persona — even as his star blows up.
For starters, his Instagram posts feature many inspirational quotes — including a quote from Tina Fey — to inspire his followers to be the best version of themselves. Eric also seems to take his advice to heart because he references living with "good vibes" and "blessings" day-to-day.
According to his ABC bio page, Eric would love to be Tony Robbins for a day because of his "amazing seminars." For fans who are unfamiliar with Robbins, his work as a motivational speaker has launched seminars, self-help tapes, and has written books. It looks as though Eric is on the right path: like Robbins, he has written two inspirational books.
While he waits for his motivational speaker empire to take off, Eric now has a job as CEO of EBiggsWay Training. As a personal trainer, Eric hosts Boot Camp sessions for his clients and offers them opportunities to have a fit and healthy lifestyle. It's clear that being a personal trainer provides Eric with an opportunity to motivate his clients, which is exhibited by his many workout videos on Instagram.
As the drama grows between Eric and Lee, let's hope Eric manages to maintain his positive thinking. If anything, Eric's experience with Lee may help motivate him to keep pushing for what he wants no matter how irrationally angry it makes people (Lee) around him. For now, fans can get their daily doses of inspiration whenever Eric adds a post to his feed.