Reports Of Shots Fired Have Put The USC Campus On Lockdown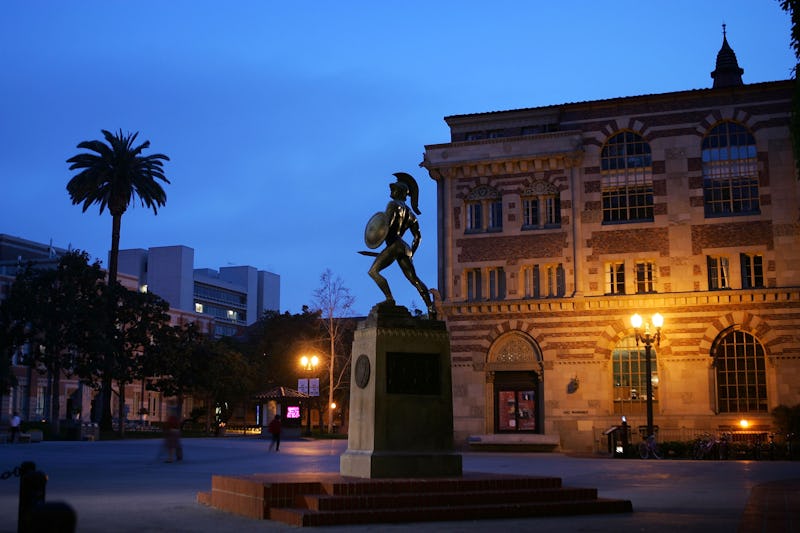 David McNew/Getty Images News/Getty Images
On Monday afternoon, Los Angeles police responded to reports of shots fired at the University of Southern California, though the university said the reports remain unconfirmed. UPDATE: Later Monday, the university wrote on Twitter that there was no threat: "The Police activity emergency at 610 Childs Way Fertitta Hall on UPC campus has concluded. The area is now safe and students are clear to re-enter and retrieve their property."
The university sent out a campus alert to students, employees, and faculty a little after noon on Monday that stated, "Police Activity at 610 Childs Way, Fertitta Hall on UPC Campus. Police searching Fertitta Hall. Shots reported but not confirmed. Shelter in place." Fertitta Hall is located in the USC Marshall School of Business.
According to The Washington Post, LAPD Officer Irma Mota said that while there was a report of a shooting in a building on campus, officers did not find evidence that a shooting did occur. An hour and a half or so after the first reports were made, the LAPD headquarters tweeted that it could confirm no shooting took place:
We can confirm there's been NO shooting on @USC Campus. Systematic search was conducted in coordination with @USCDPS. No danger to community.
Considering the mass shooting that had taken place the night before in Las Vegas, which is about four hours away from Los Angeles, where USC is located, the police were on high alert. Reports indicated that a heavy LAPD police presence showed up to the shots fired calls.
But it wasn't just police that were on high alert — the entire nation has been shaken by the news that nearly 60 people have died and more than 500 people were injured in a massacre at a country music festival in Las Vegas. Jason Aldean was performing on the last day of the three-day Route 91 Harvest Festival when shots rang out on the Las Vegas strip.
Police say a shooter had sheltered himself in a hotel room on the 32nd floor of the Mandalay Bay Resort and Casino and fired hundreds of shots into the crowd of approximately 22,000 people who were gathered for the concert. The shooter reportedly had a "cache" of weapons in the room. While information about exactly what kind of firearms were used to cause that kind of devastation, experts have said that the audio of the shooting indicates that at least one assault weapon may have been used.
Thankfully, the USC shots fired reports appear to have been a false alarm. After a search of the building, the university tweeted that there was "no evidence of active shooter, injuries, or crime" and determined the campus was safe.